Roast Cornish Hens
Sunchoke and Potato Gratin
Cooking time: 70 minutes for menu          Cooking schedule: see below for instructions
         The hens and the gratin bake at the same time making this an easy, no-fuss dinner.
Roasted Cornish Games Hens (Poussin)
Total time: 60 minutes
    Small, perfectly roasted hens make an elegant presentation and are perfect individual servings (with maybe a snack leftover).  If yours are larger birds, one may be enough, (you can split it in half before roasting) or fix two and have cold chicken/game hen for lunch tomorrow!  Remember to put bowls for bones on the table - and wet towels for fingers.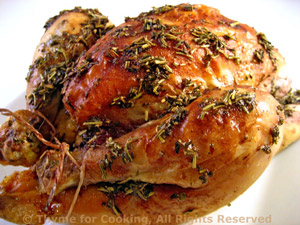 Ingredients:
2 Cornish game hens or poussin (little chickens)
2 tbs olive oil
1 tbs lemon juice
1/2 cup (4oz, 120ml) red wine
2 tsp Dijon-style mustard
2 tsp dried rosemary
2 tsp dried thyme
2 tsp dried sage
 Instructions:
Wash hens and pat dry with paper towels.

Mix 1 tbs oil with lemon juice and 1 tsp each of the herbs.
 Divide herb mixture and put half into each of the hens. 
Tie legs close and bend wings around and under the back - so it looks like they are lying there with their arms akimbo. It keeps them from flapping and gives the hen something to rest on.
 Lay them on a rack in a shallow baking pan. 
Mix the remaining oil, herbs, mustard and red wine and brush on hens. 
Put into 400F (200C). Bake for 50 - 60 minutes, basting every 15 minutes with wine mixture, until done.  See techniques. 

I recommend a meat thermometer

.
Potato and Sunchoke Gratin
Total time: 70 minutes
  Sunchokes, or Jerusalem artichokes, are the knobby, tan or purplish vegetable that you start seeing in late winter.  They have a mild taste, making them very versatile.  Peel them with a vegetable peeler.  They turn gray quickly, so keep in water if not using immediately.
 Ingredients:
2 medium potatoes
2 medium sunchokes (Jerusalem artichokes)
1/2 cup (4oz, 120ml) milk
1/2 cup (2oz, 60gr) shredded cheese 

I used Gruyère

1/4 cup (1oz, 30gr) Parmesan cheese
butter or olive oil
pinch of nutmeg
 Instructions:
Slice potatoes as thinly as possible with a sharp knife. 
Peel and slice sunchokes the same size.
Lightly butter or oil a baking dish large enough to hold the vegetables.
Layer a third of the potatoes, topped with half of the sunchokes. 
Pour a third of the milk over the top and sprinkle with half the shredded cheese.
Repeat layers once. 
Finish with a final layer of potatoes. 
Pour the remaining milk over the top, sprinkle with nutmeg and finish with the Parmesan. 
Cover with a lid or foil and bake (400F, 200C) for 60 minutes. 
Uncover for the last 10 minutes of baking time.
Note:  Whenever I am baking potatoes with a liquid: gratin, scalloped, Savoyard, etc. I always put the baking dish/dishes on a baking sheet covered in foil.  They almost always bubble over and this saves on oven clean up.  Just wrap up the mess and toss.
Cooking Schedule: 70 minutes
Assemble all food, utensils and serving dishes
Utensils: measuring cups, spoons, knives,
medium skillet, medium bowl, small bowl, 2 baking
dishes: hens and gratin, foil, optional baking sheet
for gratin dish
Turn oven on, 400F (200C), arrange 2 shelves
Butter / oil gratin dish
Peel sunchokes, put in a bowl of water
Thinly slice potatoes
Layer 1/3 potatoes
Slice the sunchokes
Layer 1/2 the sunchokes on potatoes
Pour 1/3 milk over
Sprinkle with 1/2 cheese
Repeat: potatoes, sunchokes, milk, cheese
Finish: potatoes, milk, nutmeg, Parmesan

Cover, bake gratin
Prepare hens
Mix oil, lemon, herbs, put in hens
Tie legs, arrange wings
Mix remaining oil, herbs, mustard, wine
Brush herb mixture on hens, bake
     15 minute break
Baste hens
     15 minute break
Baste hens
     15 minute break
Baste hens
Uncover gratin
     10 minute break
Remove hens, let rest
Remove gratin, serve
Don't forget the finger wipes....