Hot and Sweet Salmon
Almond Rice
Sesame Carrots
Cooking time:  25 minutes for menu          Cooking schedule: see below for instructions
       An easy Friday night dinner.  
Salmon with Hot and Sweet Glaze
Total time: 25 minutes
     The mustard and brown sugar glaze works well with the slightly sweet flavor of salmon.  Use hotter mustard if you want more of a 'kick'.  I used fillets rather than steaks: they cook in less time and the larger surface captures more of the glaze.
 Ingredients:
2 salmon fillets,  6oz (180gr) each
1 1/2 tbs brown sugar
2 tsp Dijon-style mustard
2 tsp soy sauce
1 tsp Sherry
 Instructions:
Note:  For easy clean up cover pan with foil first.  This is especially nice if you are using fillets with the skin on.  You can carefully lift the salmon off the skin to serve, leaving the skin on the foil.  Then wrap the whole mess up and toss.
Rice with Almonds and Cumin
Total time: 20 minutes
     Cinnamon, cumin and almonds give this rice a Moroccan flavor.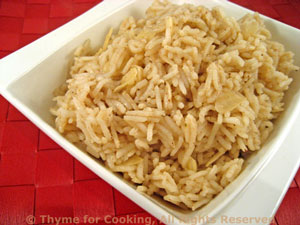 Ingredients:
1/2 cup (3.3oz, 95gr) Basmati rice
1 cup (8oz, 240ml) chicken stock
1/4 tsp cumin
1/4 tsp cinnamon
2 tbs sliced almonds
 Instructions:
Put rice, stock, cumin and cinnamon into a small saucepan. 
Cover and simmer until rice is done, about 15 minutes. 
Fluff rice, add almonds and serve.
Sesame Carrots
Total time: 25 minutes
    Carrots are the workhorse of the vegetable world, at least in my kitchen.  But that's no reason why they can't be interesting.
 Ingredients:
2 - 3 medium carrots
1/4 tsp powdered ginger
1 clove garlic
1/2 tsp sesame oil
1 tsp soy sauce
1/4 cup (2oz, 60ml) chicken stock
1 tsp toasted sesame seeds
 Instructions:
Peel carrots and roll-cut: cut the end off of the carrot at an angle, roll carrot 1/4 turn and cut next piece about 3/4 inch away at an angle, roll 1/4 and cut next piece, etc.  This gives you interesting looking pieces with lots of surface. 
Mince garlic. 
Heat sesame oil in a small nonstick skillet over medium heat. 
Add garlic and sauté briefly - 30 seconds, or so. 
Add carrots, ginger, soy sauce and chicken stock, cover and simmer over low heat until carrots are tender, 12 - 15 minutes. 
Remove cover, increase heat and cook off any remaining liquid. 
Sprinkle with sesame seeds and serve.

To toast sesame seeds: 

Put them into a dry, nonstick skillet over medium heat.  Toss or stir them about in the pan until lightly golden, about 5 minutes.
Cooking Schedule: 25 minutes
Assemble all food, utensils and serving dishes
Utensils: measuring cups, spoons, knives,
small saucepan with lid, small skillet (used 2 X),
lid, baking sheet, small bowl
Turn oven on 400F (200C)
Mix glaze, spoon half on salmon
Toast sesame seeds
Cut carrots
Mince garlic
Sauté garlic

Sauté rice
Add carrots, ginger, soy, stock, to garlic, cover, cook
Add stock, spices to rice, cover, simmer
Bake salmon
    10 minute break while it all cooks
Spoon remaining glaze on salmon, return to oven
Uncover carrots, cook off juices
Fluff rice, add almonds, fluff
Add sesame seeds to carrots
Remove salmon
Serve