Burgers with Ginger Barbecue Sauce
Grilled Potatoes with White Balsamic Glaze
Sautéed Zucchini (Courgette) with Tomatoes and Onion
Cooking time:  35 minutes for menu          Cooking schedule: see below for instructions
     We'll use the rest of the Ginger Barbecue Sauce with the burgers - either to baste or just as a sauce.  The Zucchini/Tomato makes quite a lot, so we'll finish the rest tomorrow night.
Grilled Teriyaki Burgers
Total time: 25 minutes
   These could be made with ground turkey or chicken as well.  The addition of the onions, breadcrumbs, ketchup and Teriyaki keeps them moist and flavorful.  I normally make 3 patties and serve 1 1/2 each.
 Ingredients:
 Instructions:
Finely chop onion, celery and mince garlic. 
Heat oil in a medium non-stick skillet over medium heat.  
Add garlic, celery and onion and sauté until onion is transparent.
Remove from heat and put into a large bowl. 
Add Teriyaki or soy, ketchup, breadcrumbs and ginger.  Mix well. 
Add beef and mix, hands work best. 
Shape into 3 or 4 patties. 
Oil hinged basket. 
Place patties in basket and cook on barbecue grill over direct heat for 4 - 5 minutes per side. 
Or cook directly on barbecue grill. 
Or sauté in nonstick skillet for same amount of time. 
Remove and serve with Ginger Barbecue sauce, either over the top or on the side.
Grilled Potatoes with White Balsamic Glaze
Total time: 35 minutes
   A reduction of white Balsamic vinegar, sweetened with a bit of sugar, give these the hint of potato salad, but keeps the crispness from roasting.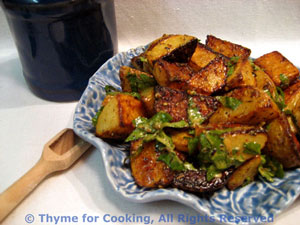 Ingredients:
 Instructions:
Slice potatoes in half the long way, then in half again. Then slice in half or thirds the short way. 
Put oil and paprika in a large bowl, add potatoes and toss, coating thoroughly. 
Put them into an old metal pie plate or cake tin or foil barbecue container (or whatever) that you will never use for any purpose but the barbecue again... and you should have one of these. 
Cook on barbecue (grill) for 20 - 30 minutes or until done... and you will need to stir them with a long-handled wooden spoon occasionally as they tend to develop 'hot spots' and can get a little crispy.   

Or

you can roast them in the oven.  Arrange potatoes on baking sheet with rim (I use my trusty, round pizza pan) Bake at 400F for 30 minutes.  
While the potatoes cook, heat vinegar and sugar in a small saucepan. 
Boil until reduced by half.  Keep warm. 
When potatoes are done put them into a serving dish, pour vinegar over, sprinkle with basil and serve.
Zucchini (Courgette) with Tomatoes and Onions
Total time: 35 minutes
      This is a traditional Mediterranean preparation and one of my favorites.  It's wonderful hot but good cold the next day if there are any leftovers.  You can add a drizzle of Balsamic vinegar and olive oil and have a cold salad.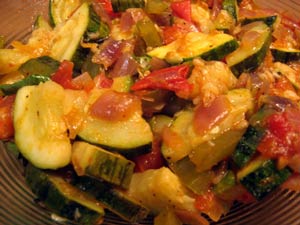 Ingredients:
 Instructions:
Sauté onions and garlic in medium nonstick skillet over medium heat. 
Cut ends off zucchini, cut in half the long way and then into 1/4 inch slices. 
When onions are transparent add zucchini. 
Cut tomatoes into chunks and add to zucchini. 
Turn heat to medium-low, cover and simmer until done, about 20 minutes. 
Chop herbs and stir in. (If using dried herbs add with tomatoes.)  
Serve.
Cooking schedule: 35 minutes
Assemble all food, utensils and serving dishes
Utensils: measuring cups, spoons, knives,
scissors, 2 medium - large bowls small saucepan,
medium skillet (used 2X), barbecue grill, basket
Turn on/light barbecue grill if using
Chop celery, finely
Chop all onion, some finely for burgers
Mince all garlic
Sauté onion, celery, garlic for burgers
Mix oil, paprika
Cut potatoes, add to oil, stir to coat
Start to cook potatoes
Remove onion/celery to bowl for burgers

Add onion, garlic for zucchini to skillet, sauté
Make burgers, patty, set aside
Cut zucchini
Chop tomato
Add zucchini, tomato to onions, cover, simmer
Heat vinegar, sugar, reduce
Mind the potatoes
Cook burgers - oiled basket works best
Snip herbs
Turn burgers
Mind the zucchini
Remove potatoes, finish
Remove burgers, spoon barbecue sauce over
Finish zucchini.... Serve all