Pork Tenderloin with Ginger Barbecue Sauce
Quinoa and Lentil Pilaf Salad
Cooking time: 35 minutes for menu          Cooking schedule: see below for instructions
      With leftover Quinoa Pilaf this is an easy dinner.  Cook the lentils, pork, make the Barbecue sauce (which will be used later in the week) finish the salad and your done.
Grilled Pork Tenderloin with Ginger Barbecue Sauce
Total time: 35 minutes
     Try not to overcook pork; slightly pink on the inside is now acceptable and keeps the meat moist and succulent.  Put some of the barbecue sauce in a separate bowl to be used for basting and discard or cook any leftover basting sauce.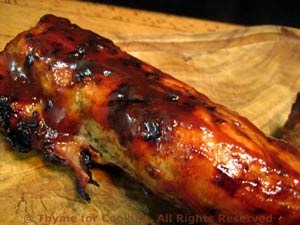 Ingredients:
1 pork tenderloin, about 12oz (360gr)
1 tbs paprika
1 tsp garlic powder
1/2 cup

Ginger Barbecue Sauce
 Instructions:
Mix paprika and garlic powder.  Rub over pork. 
Put pork on barbecue or in 400F (200C) oven for 25 - 30 minutes.  Turn occasionally to brown on all sides. 
Baste pork with barbecue sauce after 15 minutes.  Baste 2 - 3 times.  When you think pork is done slice into middle to check.  It should be done to an internal temp of 145F (62C). 
Remove, slice about 1/2" (1.5cm) thick and serve, drizzling with any remaining barbecue sauce.
Ginger Barbecue Sauce
Time: 10 minutes
Similar to our regular barbecue sauce but a bit spicier with the ginger and mustard. This will keep a week in the fridge.... But it never lasts that long.   Adding the full 2 tsp of mustard and ginger will make it a bit spicy/hot
 Ingredients:
1 cup (8oz (240ml) tomato sauce
2 tbs molasses
2 tbs cider vinegar

or other vinegar

1 - 2 tsp dry mustard   

try 1 tsp, taste after heating, add more if you like

1 - 2 tsp ground ginger 

try 1 tsp, taste after heating, add more if you like

1 tbs soy sauce
 Instructions:
Heat all ingredients in a small saucepan, whisking to combine. 
Bring to a simmer just long enough to combine all ingredients.  
Note: Remove 2 - 3 tbs barbecue sauce to use for basting rather than dipping the basting brush or spoon into that entire sauce.  
Quinoa Pilaf and Lentil Salad
Total time: 5 minutes  30 minutes if cooking lentils and quinoa 
    I always try to cook rice, grains, beans etc. ahead in the summer so it's a quick dinner to mix them together and add a bit of vinaigrette for a healthy salad to go with something from the grill.
 Ingredients:
1 - 1 1/2 cups leftover quinoa pilaf
OR
1/2 cup quinoa cooked in  
1 1/2 cup chicken stock (or the amount of liquid your package recommends)
3/4 cup cooked lentils
OR
1/4 cup small green lentils (Lentille Verte du Puy)  cooked in
1/2 cup beef or chicken stock and 1/2 cup water
1 tbs fresh, snipped chives or garlic chives
Balsamic Vinaigrette:
1 tbs Balsamic vinegar
2 tsp soy sauce
1 tsp Dijon-style mustard
2 tbs good olive oil
2 tsp sesame of walnut oil  optional
 Instructions:
Snip herbs. 
Combine lentils and quinoa pilaf in a medium bowl. 
Put ingredients for vinaigrette in a small bowl and whisk to combine.
Immediately pour over quinoa/lentils and stir to combine.  Add chives, stir and serve.
Cooking Schedule: 35 minutes
Assemble all ingredients and utensils
Utensils: measuring cups, spoons, knives,
scissors, small bowl (used 2X), 2 small
saucepans, 1 lid, medium bowl, barbecue grill
Turn on/light barbecue grill
Make rub for pork, rub on
Start to cook pork
Cook lentils
Make barbecue sauce

Baste pork
      Pause while the lentils, pork cook
Baste pork again.... and again
      Pause again
Make vinaigrette
Mind the lentils, when done, drain
When pork is done, remove and let rest a minute
Stir together quinoa pilaf, lentils
Add Vinaigrette to salad, stir
Slice and serve pork, more sauce on the side