Prosciutto Wrapped Chicken on Pimiento Sauce
Risotto with Fava Beans
Cooking time:  50 minutes for menu        Cooking schedule: see below for instructions
    Fava or broad beans are a sign of spring that I almost forgot about... They are so fleeting here. They're a bit of work (like fresh peas) to prepare so I use them in risottos or pastas, rather than on their own.  You can substitute edamame (fresh soy beans) if you like - same color, similar taste and texture. 
Prosciutto Wrapped Chicken Breasts on Pimiento Sauce
Total time: 40 minutes
     These are easy to make: slice a pocket, fill and tie.  The Prosciutto wrapping infuses the chicken with flavor and helps keep it moist.  The Pimiento Sauce adds just a bit of spice to it.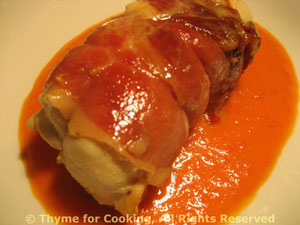 Ingredients:
 Instructions:
With a sharp knife make a long slit in the edge of the chicken breast - cutting horizontally and being careful not to cut through the other side.  Make the cut on the 'straight' edge of the breast.  You should have a pocket the shape of the breast with 1/2 inch of 'uncut' chicken around 3 sides. 
Tuck the sliced cheese inside. 
Lay 2 slices of Prosciutto side by side. 
Close the chicken breast and lay it on the Prosciutto at a slight angle,  Roll and wrap, covering the chicken breast completely in the ham, as best you can. 
Wrap the entire parcel with kitchen string to hold it together - and keep as much cheese inside as possible. 
Heat oil in a medium nonstick skillet over medium heat.  Add chicken and brown well on all sides, about 10 minutes total. 
Reduce heat to low, cover and let finish cooking, another 10 - 15 minutes.
Pimiento Sauce:
Put pimiento/pepper, garlic powder and chili powder into a blender.  Purée, adding as much stock as needed.
Pour into a small saucepan and stir in tomato paste. 
Gently heat until it starts to simmer. 
Remove from heat, stir in yogurt and cover to keep warm. 
To finish: 
Remove chicken from heat.  Snip the string in a few places and remove. 
Spoon some Pimiento Sauce onto the plates, place the chicken in the center and serve, any remaining sauce on the side.
Risotto with Fava (Broad) Beans 
Total time: 25 minutes
    Another classic Italian dish for spring.  It would normally be served as a first course (as are all pasta and rice dishes in Italy) but I like it as creamy side dish.  Fava beans are only with us a short time in the spring.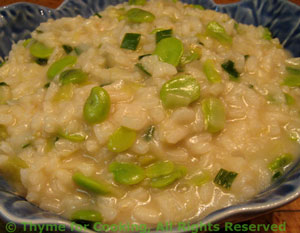 Ingredients:
1/2  - 3/4 cup fava (broad) beans 

you'll need about 1lb (500gr) of pods to start with  

    

substitute edamame (soy beans)

1/3 cup (2.1oz, 60gr) Arborio rice (or other rice specifically for risotto - Carnaroli or Vialone Nano)
1/3 cup (3oz, 90ml) dry, white wine
1 1/4 cups (10oz, 300ml) chicken stock
2 green garlic  

substitute green onion and 1 clove garlic

1 tbs butter
1/3 cup (1.5oz, 45gr) Parmesan cheese - freshly grated
 Instructions:
Heat chicken stock and keep hot over low heat. 
Trim and thickly slice green garlic, using as much green as possible.
Peel fava beans.  Can be done earlier
In medium sauce pan heat butter; add green garlic, rice and sauté, stirring, for 2 - 3 minutes until rice has white center. 
Add white wine and stir. 
When wine is almost absorbed add a 1/4 cup of stock and stir.  
When the rice has almost absorbed the stock add another 1/4 cup and stir.  Add the fava beans or edamame with the next 1/4 cup of stock.  Continue adding stock, 1/4 cup at a time, and stirring. 
Before the last 1/4 cup is added taste a few kernels of rice.  They should be just 'al dente' - slightly resistant to the tooth but fully cooked.  You may not need the last 1/4 cup.  If more stock is needed add it 1/8 cup at a time and waiting until almost completely absorbed.  At this point risotto will be thick but not stiff - it will not hold it's shape on a plate. 
Stir in the Parmesan.  
Spoon into a bowl and serve immediately. 
Peel fava beans: It's a bit like peas.  Break open the pod and take the beans out.  Don't bother with any really tiny ones.  Blanch in rapidly boiling water for 2 minutes. Drain and put into cold water.  After blanching they will have a whitish outer shell.  Just squeeze lightly and the inner, bright green bean will pop out.  It may split in half... that's okay.
Cooking Schedule: 50 minutes
Assemble all food, utensils and serving dishes
Utensils: measuring cups, spoons, knives,
large skillet or barbecue grill, small sauce pan,
blender, 2 medium saucepans (1 used 2 x),
kitchen string
Heat water for blanching fava beans
Remove beans from pods
Blanch beans
Refresh beans in cold water
Pop beans out of shell, set aside
Turn on/light barbecue grill if using
Slice chicken breasts
Slice cheese
Stuff chicken with cheese
Roll in Prosciutto, tie with kitchen string
Purée pimientos, put in saucepan, warm
Grate Parmesan

Trim and slice green garlic
Start to cook chicken
Sauté rice, green garlic
Add wine to rice, stir
Turn chicken
Add stock to rice, stir
Turn chicken
Add stock, fava beans to rice, stir
Turn chicken, cover, cook
Add stock to rice, stir
Finish pimiento sauce
Keep on until everything is done
Stir cheese into risotto
Remove chicken, remove string
Spoon Pimiento sauce on 2 plates
Lay chicken on sauce
Spoon risotto into a pretty bowl,
Serve