Omelet with Parsley, Mushrooms and Feta
Sesame-Crusted Salmon
Teriyaki Potato Chips
Sautéed Butternut Squash, Oriental Style
Cooking time: 35 minutes for menu           Cooking schedule: see below for instructions
      I had a bit of feta left from the Pissalidière, thus the omelet.  You can substitute other cheese.  This is an easy Friday night dinner with both the salmon and potatoes done in the oven.  Reserve the 'neck' of the butternut squash for tomorrow night.
Omelet with Parsley, Mushrooms and Feta   
Total time: 15 minutes
    Lots of late parsley and a bit of cubed or crumbled feta add sharp flavors to this simple omelet. This is a small omelet, for a first course.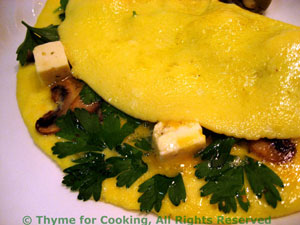 Ingredients:
2oz (60gr) mushrooms   

any interesting variety

5 - 6 stems fresh parsley

substitute 2 tbs dried

1oz (30gr) feta cheese
3 eggs
2 tsp olive oil
 Instructions:
Remove parsley leaves from stem, leave whole.  Divide into 2 piles and set aside. 
Clean mushrooms (using brush - do NOT wash) and slice thickly.  
Heat 2 tsp oil in medium nonstick skillet.  Add mushrooms and sauté until golden brown, about 10 minutes. 
Remove from pan and divide in 2.
In a medium bowl beat eggs well with a wire whisk. 
Heat an 8 inch nonstick skillet or omelet pan over medium-high heat. 
Add 1 tsp oil and half of the eggs, swirling to cover bottom of pan. 
When the eggs are almost set lay half of the parsley leaves on half of the omelet.
Top with half of the mushrooms and half of the feta. 
With a spatula turn other half of omelet on top. 
Leave in the pan another 20 - 30 seconds to finish cooking, then remove to plate. Keep warm
Repeat for second omelet.
Sesame-Crusted Salmon
Total time: 20 minutes
 The sesame crust adds just the right amount of crunch to these flavorful salmon filets; roasting keeps the crust nicely in place.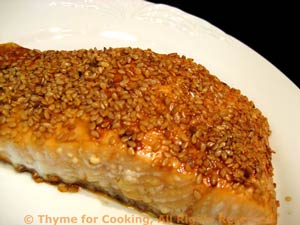 Ingredients:
2 salmon fillets or steaks, 12oz total weight (360gr total)
2 tbs sesame seeds
2 tsp soy sauce
2 tsp sesame or walnut oil
1 tsp brown sugar
1/4 tsp ground ginger
 Instructions:
Mix soy sauce, sesame oil, ginger and brown sugar in a small bowl, whisking until sugar and ginger are dissolved.  
Put salmon on a baking sheet with a lip.  Divide soy mixture and spoon over salmon, coating evenly. 
Sprinkle sesame seeds on top of each filet, pressing them in lightly. 
Bake in 400F (200C) oven for 15 - 17 minutes, depending on thickness.  Salmon will be done when it flakes easily, slightly pink in the center is fine.  The sesame coated top should be a golden brown when done.  Remove and serve.
Note:  For easy clean up cover pan with foil first.  This is especially nice if you are using fillets with the skin on.  You can carefully lift the salmon off the skin to serve, leaving the skin on the foil.  Then wrap the whole mess up and toss.
Baked Teriyaki Potato Chips
Total time: 35 minutes
   The Teriyaki Marinade caramelizes on the bottom of the chips, making a chewy crust around the edges.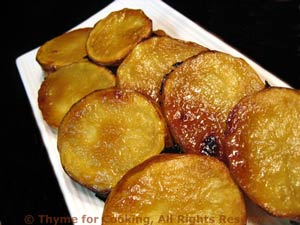 Ingredients:
2 medium potatoes
1 - 2 tbs Teriyaki marinade or sauce
 Instructions:
Slice potatoes in about 1/4 inch (.5cm) thick slices.

(Or a little thinner.)  

Put potato slices and Teriyaki in a bowl and stir well to coat. 
Lay on a nonstick baking sheet (if you have one - just makes it easier). 
Bake in a 400F (200C) oven for 30 minutes. 
Turn half way through if you like. 
Remove and serve.
Sautéed Butternut Squash, Oriental Style
Total time: 20 minutes
    Butternut squash sautéed with onion and soy sauce, another simple preparation for this savory fall vegetable.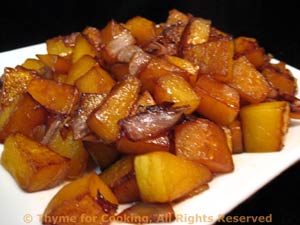 Ingredients:
 Instructions:
Slice butternut squash, (.5", 1.25cm) then cut into bite-size pieces. 
Roughly chop onion. 
Heat oils and soy sauce in a large, nonstick skillet over medium heat. 
Add squash, onions and sauté 15 minutes, until squash and onions are nicely browned. Serve.
Note:  To clean butternut squash first peel it, using a potato/vegetable peeler.  If it's large (typically) cut it in half between the 'neck' and 'bowl' ends.  Then cut those in half the 'long' way.  Scoop the seeds out of the round end and discard.  I use the neck end for uniform pieces and the bowl end for soups and smaller pieces.
Cooking schedule: 35 minutes
Assemble all food, utensils and serving dishes
Utensils: measuring cups, spoons, knives,
scissors, medium bowl, whisk, medium skillet /
omelet pan, large skillet, small bowl, large bowl,
2 baking sheets
Turn oven on 400F (200C), arrange 2 shelves
Slice potatoes
Coat potatoes / Teriyaki (or soy/molasses)
Arrange potatoes on baking sheet, bake
Clean, trim, slice mushrooms
Sauté mushrooms
Peel, clean butternut squash
Mind the mushrooms
Cut squash for today, refrigerate rest
Chop onion
Remove mushrooms, set aside
Prepare salmon, place on baking sheet

Mix glaze for salmon, spoon on
Press in sesame seeds
Turn potatoes
Prepare parsley, feta
Whisk eggs
Put salmon in oven
Sauté butternut squash, onion
Make first omelet
Add feta, parsley, mushrooms, fold over
Remove omelet, cover
Repeat for second omelet
Mind the squash, onions, reduce heat
Serve omelets, relax, enjoy
Done?
Mind the squash, onion
Remove potatoes
Remove salmon
Serve