Golden Chicken Breasts
Brown Rice and Beans, Oriental Style
Cooking time:  30 minutes for menu          Cooking schedule: see below for instructions
     Red beans and rice with a twist and a chicken breast with a kick: easy summer cooking. Look for quick cooking brown rice, be patient or substitute Basmati.
Golden Chicken Breasts, Grilled
Total time: 30 minutes
   When you are marinating any sort of meat it helps to poke a fork into it, then turn the meat several times to soak up the marinade.  The orange marmalade and sherry give the chicken sweetness, while the ginger and garlic add some heat.
 Ingredients:
2 boneless, skinless chicken breasts
Marinade:
3 tbs soy sauce
3 tbs orange marmalade
3 tbs dry sherry
1/4 tsp powdered or 1 tsp fresh, chopped ginger
1/2 tsp garlic powder - or 2 cloves minced
 Instructions:
In small bowl mix all ingredients for marinade. 
Put chicken breasts in shallow baking dish (or something with sides) and pour marinade over. 
Let marinate for 15 minutes.  
Cook on barbecue grill for 12 - 15 minutes or until done.  Test by taking a peak - stick a knife in the center and see if it is still pink - if it is, cook another 5 minutes. 

Or

can be baked in 400F oven for 20 - 25 minutes or until done - test. 
Remove and serve, sliced if you like.
Brown Rice and Beans, Oriental Style
Total time: 25 minutes
    Sauté onions and celery, add red kidney beans (or any color/type of bean) and cooked, brown rice for a nutritious side dish, full of vitamins and fiber.  Use  quick-cooking brown rice to save time.  Flavored with soy sauce, sherry and Balsamic vinegar, this gives 'Beans and Rice' a whole new meaning!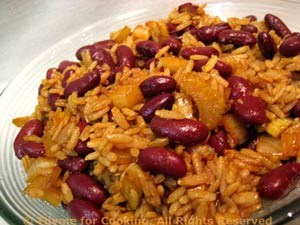 Ingredients:
1/2 cup (3.3oz, 95gr) quick-cooking brown rice
1 cup (8oz, 240ml) chicken stock
1 3/4 cup (15oz, 450gr) red kidney beans
1 onion
2 cloves garlic
1 rib celery  

optional

1 tbs olive oil
1 tsp paprika
1 tbs Balsamic vinegar
1 tbs dry sherry
2 tsp soy sauce
 Instructions:
Cook rice in chicken stock, 15 minutes, or until done (check package directions).
Thinly slice onion and celery.
Mince garlic. 
Open, drain and rinse beans. 
Heat oil in medium nonstick skillet over medium heat.
Add paprika, onions and celery and sauté until tender, 6 - 8 minutes.
Add garlic and sauté 2 minutes longer. 
Add beans, vinegar, sherry and soy sauce.  Heat through. 
Cover and reduce heat to keep warm. 
When rice is done, stir into beans and serve.
Cooking schedule: 30 minutes
Assemble all ingredients and utensils
Utensils: measuring cups, spoons, knives,
small bowl, marinating dish, small saucepan, lid,
medium skillet
Mix marinade, spoon over chicken
Light/turn on barbecue grill
Start to cook rice
Start to cook chicken

Slice onion, celery
Sauté paprika, onion, celery
Mince garlic, add to onion
Turn chicken
Open, drain, rinse beans
Add beans, vinegar, sherry, soy sauce to skillet
Heat through
When rice is done, stir into beans
When chicken is done, remove, slice, Serve