Beer Braised Beef
Fried Colcannon
Cooking time: 20 minutes for menu    Cooking schedule: see below for instructions
     Leftover's on Sunday?  Well, we have those 4 tortillas to use up as well....
Beef Braised in Beer with Caramelized Onions 
Total time: 10 minutes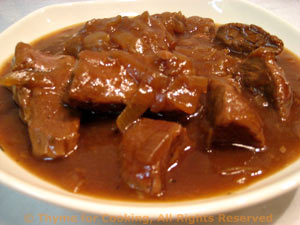 Ingredients:
 Instructions:
Fried Colcannon
Total time: 25 minutes
     Similar to Mashed Potato Cakes, but easier and quicker to make.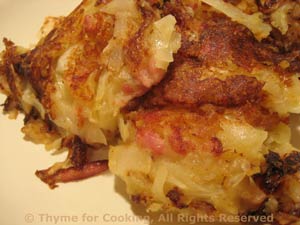 Ingredients:
leftover colcannon
3 tsp butter
 Instructions:
In a medium nonstick skillet melt 1 tsp butter over medium-high heat. 
Add half of the colcannon and pat it down evenly.  Let sauté for 6 - 7 minutes until crisp and brown on the bottom. 
Using a spatula, turn the colcannon over carefully so the crispy side is up.  It's not necessary to keep it together; do it in sections. 
As you are turning it put 1 tsp butter underneath the sections. 
Once it's all turned pat it back together. 
Put the remaining half of the colcannon on top of the browned side in the pan, spreading it out and patting it down. 
Let sauté for 6 - 7 minutes until bottom is crispy and brown. 
Now turn this over, adding the remaining tsp of butter and doing it in sections. 
Pat it together and let sauté 6 - 7 minutes. 
When done on the bottom again, slide it onto a plate and serve.
Cooking Schedule: 20 minutes for menu
Assemble all ingredients and utensils
Utensils: measuring cups, spoons, knives,
medium saucepan, medium nonstick skillet 
Melt 1 tsp butter in skillet
Add half of the colcannon, fry
Gently reheat beef

Turn colcannon, adding butter
Pat into place, fry
    Wait for stuff to cook
Turn colcannon, adding butter
Pat into place, fry
Stir the beef, wait
Done? Serve