Avocado Salad
Baked Salmon with Mustard Cream
Creamy Orzo with Prosciutto
Hot Spinach Salad
Cooking time: 30 minutes for menu      Cooking schedule: see below for instructions
     While avocados of some variety are available all year, they start getting plentiful and inexpensive in the spring - just in time for our yearning for salad. Plus, we're starting to see the first early radishes.
Avocado Salad  
Total time: 20 minutes
    This is a simple salad, full of heart-healthy fats.  The vinaigrette blends with the avocado making the dressing thick and creamy, coating the celery and egg.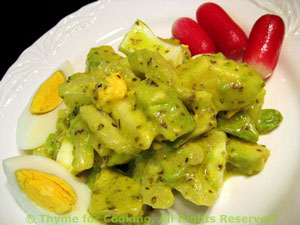 Ingredients:
1 avocado
1 rib celery
2 eggs, hard-boiled
2 tsp Dijon-style mustard
1 tbs white balsamic vinegar
3 tbs good olive oil, for salads

radishes for garnish  

optional
 Instructions:
Salmon with Mustard Sauce 
Total time: 25 minutes
    The creamy yogurt takes a bit of the heat and bite out of the hot mustard, giving subtle flavors to the sauce.  We prefer salmon filets.  They may not make as nice of a presentation as steaks but they cook more evenly and are boneless.
 Ingredients:
2 salmon fillets,  12oz (360gr) total weight
2 shallots
2 tsp olive oil
1/2 cup (4oz, 120ml) white wine
1 tbs mustard seeds
2 tbs Dijon-style mustard
1/3 cup (3oz, 90gr) Greek yogurt
1 tsp dried tarragon 
 Instructions:
Finely chop shallots.
Heat oil in a small saucepan over medium heat.  Add shallots and sauté for 5 minutes.
Add wine and mustard seeds and boil, uncovered for about 3 minutes.  Mix should be reduced by about half. 
Add mustard and tarragon and bring to boil. 
Remove from heat.
Remove 2 tbs for basting the salmon.
Stir yogurt into the remaining sauce.  Cover and keep warm.
Put salmon on foil-lined baking sheet.  Spread reserved mustard/wine sauce on top.
Bake at 400 F for 10 - 15 minutes, until top is light brown and fish flakes easily.  It's okay if slightly translucent in the center. 
Serve with Mustard Sauce on the side. 
Creamy Orzo with Prosciutto
Total time: 25 minutes
     The orzo is cooked in a minimum of liquid, so the starch, that is normally lost during cooking, turns into a creamy sauce, aided by some freshly grated Parmesan.  One thin slice of Prosciutto adds a distinctive finish.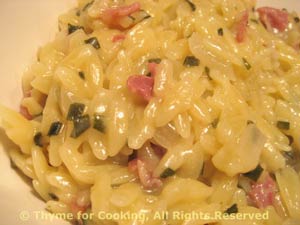 Ingredients:
1 tbs butter
1/2 onion
1/2 cup (4.5oz, 130gr) orzo
1/2 cup (4oz, 120ml) white wine
3/4 cup (6oz, 180ml) chicken stock
1 slice prosciutto
1/2 cup (2oz, 60gr) fresh Parmesan cheese, grated
1 tbs dried or fresh chives
 Instructions:
Finely chop the onion. 
Roughly chop the Prosciutto. 
Melt butter over medium heat in a small saucepan.  Add the onion and sauté until tender, about 5 minutes. 
Add orzo and cook for 1 minute, stirring constantly. 
Add wine, stock, Prosciutto, and bring to a simmer on medium heat. 
Turn heat to low and simmer until done, stirring occasionally, about 15 minutes.  All stock will be absorbed. 
Stir in cheese and chives. 
Remove from heat and serve.  This will be creamy, not stiff.
Warm Spinach Salad
Total time: 10 minutes
    This is a cross between a salad and a vegetable.  I've added a bit of bacon to it but you can leave it out for a vegetarian version.  Be careful to cook the spinach for a just a minute, only to wilt slightly.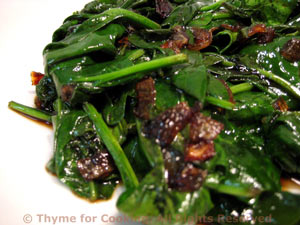 Ingredients:
 Instructions:
Roughly chop Prosciutto. 
Wash and stem spinach if needed.  Drain in a colander.  If you don't feel you need to wash it - do it anyway.  We want a little bit of water on the leaves - what ever is left on the leaves after draining well. 
Cut any really large leaves. 
Heat oil over medium high heat in large nonstick skillet. 
Add Prosciutto and sauté until crisp. 
Add vinegar, thyme, sugar and heat through. 
Add spinach and quickly stir-fry, 1 minute.  The spinach should just start to wilt. 
Remove, sprinkle with salt, pepper and serve.
Cooking schedule: 30 minutes
Assemble all food, utensils and serving dishes
Utensils: measuring cups, spoons, knives,
2 small saucepans with lids, 1 medium saucepan
with lid, baking sheet, foil, medium bowl, small
bowl, whisk, large skillet
Hard boil eggs
Turn oven on, 400F (200C)
Finely chop shallots
Chop onion, Prosciutto
Sauté shallots for mustard sauce
Sauté onion for orzo
Tend to the spinach, cut if needed
Add wine and mustard seeds to shallots
Add orzo to onion
Add wine, stock, Prosciutto to orzo, simmer
Add mustards, tarragon to mustard sauce
Bring to boil, remove from heat, remove 2 tbs
Add yogurt to remaining mustard sauce, cover

Cool eggs if/when done
Grate Parmesan
Prepare salmon
Spread reserved 2 tbs sauce over salmon, bake
Cut and cube avocado
Make vinaigrette
Peel and cut/chop eggs (1 chopped, 1 quartered)
Make salad
Cover orzo, if close, turn heat off
Garnish and serve salad
Relax and enjoy
Done?
Heat oil, sauté Prosciutto
Stir Parmesan into orzo
Remove salmon when done
Add vinegar, thyme, sugar to Prosciutto
Add spinach, stir-fry
Put salmon on platter, spoon some sauce on
Serve spinach and orzo