Risotto with Pork and Avocado
Fresh Fruit
Cooking time:  25 minutes for menu       Cooking schedule: see below for instructions
          I may have mentioned that risotto is perfect for leftovers - in this case the leftovers from both of the starters: 1/2 avocado, 1/2 red pepper. They make this a light, colorful risotto. 
Risotto with Pork, Avocado and Red Pepper
Total time: 30 minutes
      Avocado is not a typical ingredient for risotto, or other hot dishes, but, added at the last minute, it stays intact and just starts to melt into the hot rice, adding a luscious creaminess.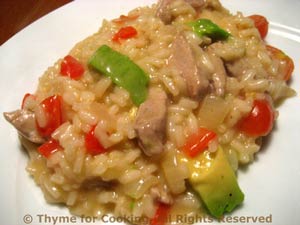 Ingredients:
 Instructions:
Heat chicken stock and keep hot over low heat. 
Finely chop onion. 
Start condimenti.
In medium saucepan melt butter over medium-high heat. 
Add onion and sauté until transparent
Add rice and sauté stirring, for 2 - 3 minutes until rice has white center. 
Add white wine and stir.  
When wine is almost absorbed add a 1/3 cup of stock, stir. (No need to stir constantly but do stir from time to time.) 
When stock is almost absorbed add another 1/3 cup and continue adding 1/3 cup at a time and stirring. 
Before the last 1/3 cup taste a few kernels of rice. They should be just 'al dente' - slightly resistant to the tooth but fully cooked. If more stock is needed add it 2 tbs at a time and waiting until almost completely absorbed. At this point risotto will be thick but not stiff - there will still be visible liquid and it will not hold its shape on a plate. 
Add the Parmesan and the warm condimenti, stir well. 
Add the avocado chunks and stir gently. 
Spoon into a bowl or risotto platter and serve immediately. It will continue to absorb liquid and the leftovers (if any) will be quite stiff. 
Condimenti:
Cut the pork into bite-size pieces. 
Chop the onion and pepper. 
Heat olive oil in nonstick skillet. Add onion, red pepper and sauté 5 minutes.
Add pork and sauté until done, 7 - 8 minutes.
Reduce heat to keep warm until needed for risotto. 
Cut the avocado into chunks when ready to use.
Fresh Fruit
any seasonal fruit
Cooking Schedule: 25 minutes for menu
Assemble all ingredients and utensils
Utensils: measuring cups, spoons, knives,
medium skillet, 2 medium saucepans, ladle
Start to heat stock
Peel onion, chop divide
Sauté onion for rice
Chop red pepper
Add rice to onion, sauté
Add wine to rice, stir
Cut pork
Stir rice
Sauté onion, pepper for condimenti
Add stock to rice, stir

Add pork to onion/pepper, sauté
Add stock to rice, stir
Stir rice again
Add stock to rice, stir
Cover condimenti, turn heat off
Stir rice
Grate Parmesan
Add stock to rice stir
Repeat stirring, adding stock until rice is done
When rice is almost ready, cut avocado
When ready, add condimenti, Parmesan, stir
Gently stir in avocado
Spoon into serving dish
Serve - don't forget the fruit!