Sautéed Chicken with Red Eye Gravy
Roasted Potatoes
Crisp Sautéed Sunchokes
Cooking time:   35 minutes for menu           Cooking schedule: see below for instructions
      Sunchokes, or Jerusalem Artichokes, are those gnarly, purple/tan vegetables that start showing up this time of year.  Peel them with a vegetable peeler and cook them the same ways you would cook carrots.  They need to be kept in water if not used right away, or they will turn gray, like potatoes.  I put bacon on the list for the chicken rather than Prosciutto.
Chicken Breasts with Red-Eye Gravy  
Total time: 30 minutes
     It's the coffee that gives the name to this dish.  I use instant as I always have some on hand for caffeine emergencies.  Leftover from morning coffee works just fine - as long as it hasn't been on the burner all day ;-) I usually cut chicken breasts in half before cooking.
 Ingredients:
2 chicken breasts, boneless, skinless
2 tsp olive oil
1 tsp paprika
2oz (60gr)  Prosciutto or bacon

  2 - 3 slices

4oz (120gr) mushrooms
1/2 cup (4oz, 120ml) strong coffee
1 tbs brown sugar
1/4 cup (2oz, 60ml) chicken stock
2 tsp cornstarch (maizena) dissolved in 1 tbs water
 Instructions:
Roughly chop Prosciutto/bacon.
Cut chicken breasts in half.
Heat oil in nonstick skillet over medium high heat.
When hot add paprika and sauté 1 minute. 
Add bacon or Prosciutto and sauté; 2 minutes for Prosciutto, 5 minute if using bacon. 
Add mushrooms and sauté 4 minutes longer.
Move vegetables and bacon to the side and add chicken breasts. 
Sauté 2 minutes per side. 
Add coffee, stock and sugar, bring to a boil, reduce heat, cover and simmer 10 - 15 minutes or until chicken is done. 
Remove chicken (put on a plate and cover with the lid from the pan) and increase heat. 
Add cornstarch dissolved in water and stir until sauce is thick. 
Pour  sauce over chicken and serve.
Roasted Potatoes 
Total time: 35 minutes
   Lovely golden brown and crisp, these potatoes are great with any meats any time.  They are easy to make and the herbes can be varied according to the rest of the meal. In summer we do them on the barbecue grill in an old metal pie plate for the same amount of time..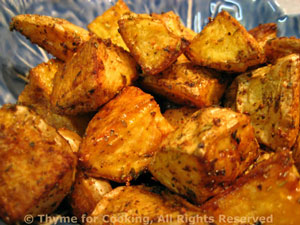 Ingredients:
2 medium potatoes
1 tbs olive oil
1 tsp herbes de Provence
salt and pepper
 Instructions:
Slice potatoes in half the long way, then in half again.  Then slice in half or thirds the short way.
Put remaining ingredients into large bowl and mix well.
Add potatoes and toss, coating thoroughly.  Arrange potatoes on baking sheet with rim (I use my trusty, round pizza pan) Bake at 400F for 30 minutes. 
You can turn once if you like to fuss but I usually don't bother.
Remove from oven and serve.  These will stay hot for awhile so a 5 or 10 minute delay is okay.
Crisp Sautéed Sunchokes   
Total time: 30 minutes
   Another easy way to fix this versatile vegetable. 
 Ingredients:
3 - 4 (7oz, 210gr) Jerusalem artichokes

aka sunchokes 

1 tbs olive oil
1/2 tsp dried thyme
1/2 tsp dried marjoram

sea salt,

optional
 Instructions:
Peel sunchokes using a vegetable peeler or knife if they are really gnarly.
Slice 1/4" (.5cm) thick.
Heat oil in a large nonstick skillet over medium-high heat.
When hot add sunchokes slices and quickly sauté until golden brown and crisp-tender, 7 - 9 minutes.
Sprinkle with herbs and sea salt if using and serve.
Note: Sunchokes tend to discolor - if not cooking immediately, put in a bowl and coat with the olive oil.
Cooking schedule: 35 minutes
Assemble all food, utensils and serving dishes
Utensils: measuring cups, spoons, knives,
medium skillet with lid, large skillet, baking sheet,
medium bowl
Turn oven on, 400F (200C)
Cut potatoes
Mix oil, herbs
Add potatoes, toss to coat
Lay potatoes out on baking sheet, bake
Sauté paprika in oil
Chop bacon/Prosciutto, add to skillet, sauté
Trim, chop mushrooms, add to skillet, sauté
Cut chicken breasts

Move bacon / mushrooms to side, add chicken, brown
Turn chicken, brown
Add coffee, stock, sugar, bring to boil
Cover, reduce heat, simmer
Peel sunchokes, slice, sauté
Stir the potatoes if so inclined
    Pause while stuff cooks
Turn sunchokes
Dissolve cornstarch in water
When ready, remove chicken and increase heat
Thicken sauce
Pour sauce over chicken
Remove potatoes, sunchokes
Serve