Chicken Breasts, leftover Duxelles
Potatoes a la Two Fat Ladies,
leftover


Broccoli with Shallots and Mustard

Cooking time: 25 minutes for menu        Cooking schedule: see below for instructions

     An easy dinner, partly from leftovers.  Add any leftover mushrooms to the chicken as we won't be using them again this week. I normally get rather large heads of broccoli, so half is perfect for one meal.  You may want more or less.
Chicken Breasts Duxelles
Total time: 20 minutes
      Duxelles may be more traditional with veal or beef but it works wonderfully well with chicken breasts. I cut the chicken breasts it half for a nicer presentation.
 Ingredients:
2 chicken breasts, boneless, skinless
1/4 cup (2oz, 60ml) white wine
1 tbs olive oil
Duxelles Sauce:
leftover Duxelles
 Instructions:
Duxelles:
Gently reheat
Chicken:
Heat olive oil in medium nonstick skillet.  Add chicken breasts and sauté until golden, about 5 minutes per side. 
Add white wine.  Cover, reduce heat and simmer for 10 minutes. 
Arrange on Duxelles and serve.
Potato Gratin with Herbs and Garlic
(The Two Fat Ladies)
Total time: 5 - 15 minutes
 Ingredients:
 Instructions:
Gently reheat, oven or micro
Broccoli with Shallots and Mustard
Total time: 25 minutes
    The broccoli is steamed, just until done, but should retain a bit of crispness.  It's finished with a pungent mustard and shallot sauce.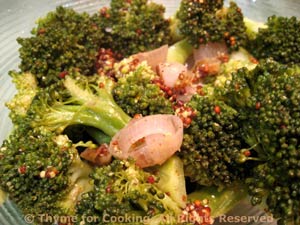 Ingredients:
1/2 head broccoli
2 shallots
2 tsp olive oil
2 tsp whole grain mustard
2 tbs chicken stock
 Instructions:
Cooking schedule: 25 minutes
Assemble all food, utensils and serving dishes
Utensils: measuring cups, spoons, knives,
medium nonstick skillet with lid, saucepan with
steamer basket
If reheating potatoes in oven, turn on 350F (175C)
Start to reheat potatoes (cold oven)
Sauté chicken breasts
Cut broccoli, steam
Slice any leftover mushrooms
Turn chicken breasts, add mushrooms, if any

Add wine to chicken, cover, simmer
Gently reheat Duxelles
Slice shallot
Remove broccoli, cover
Empty saucepan of water, add oil, heat
Sauté shallot
Add mustard, stock, stir, heat
Add broccoli, stir, finish
Remove chicken, arrange on sauce
Remove potatoes
Serve