Pumpkin Lasagne
Apple Crisp
Cooking time:  60 minutes for menu       Cooking schedule: see below for instructions
           You can use canned pumpkin for this, or any other winter squash (including pumpkin) that has been cooked and mashed.  I use fresh pumpkin from my garden, that I roast, package and freeze.  For directions see Pumpkin.  Any leftover lasagne and extra pumpkin can be frozen for later.
Pumpkin, Sage and Leek Lasagne
Total time: 60 minutes
    Pumpkin is not just for pies. It's a wonderful vegetable, and works well in a lot of savory dishes.  I use moist, deli ham in this lasagne.  I love the combination of ham, sage and winter squash.  You can leave the ham out for a vegetarian version.  The recipe was designed for using no-cook noodles.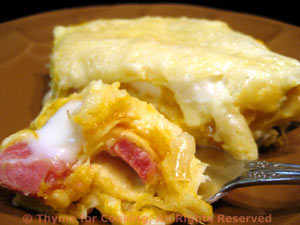 Ingredients:
1 onion
2 leeks
1 tsp olive oil
1 tsp butter
1 cup (8oz, 240gr) pumpkin
15 - 20 fresh sage leaves    

substitute 2 tbs dried

8oz (240gr) baked ham, or equivalent 

1 thick slice from the deli

1 tsp butter
1 cup (4oz, 120gr) shredded cheese

Swiss, Gruyère, Emmenthal

Béchamel:
3 tbs butter
1/4 cup (2oz, 60gr) flour
pinch of nutmeg
2 cups (16oz, (480ml) milk
9 - 12 sheets 'no-cook' lasagna noodles
1/4 cup (1oz, 30gr) grated Parmesan
 Instructions:
Trim and wash leeks. 
Thinly slice the onion and leeks. 
Heat oil and butter in large nonstick skillet over medium high heat.  Add onions, leeks and sauté, stirring, for 1 minute. 
Cover the pan, reduce heat to medium low and cook for 10 minutes. 
Uncover, increase heat to medium, continue to cook until onions are golden and tender, about 10 minutes longer. 
Add the pumpkin, stir well to combine and heat through.
Cut the ham into thin strips, then the strips into smaller squares. 
In another skillet heat 1 tsp butter.  Add sage leaves and sauté until starting to get crisp. 
Add ham, sauté until heated through and dry (it can give off a bit of water). 
Béchamel:
In a medium saucepan heat 3 tbs butter over low heat. 
Add flour, nutmeg and stir with a whisk for 1 minute. 
Add a little (1/4 cup) of the milk, whisk to combine. 
Turn heat up to medium and keep adding milk, a little at a time and whisking.  You should have added all of the milk in a minute or 2. 
When all of the milk is in, bring to a boil (should almost be there), whisking.  Then remove from heat. 

To assemble:

  in a 10" (25cm) square baking dish, or 9 X 11 oblong, make the following layers:
1/3 béchamel sauce
2 - 3 noodles,  you may have to break a third one up to get good coverage 
1/2 onion, leek, pumpkin mixture
2 - 3 noodles 

or so

1/3 béchamel sauce
all of the ham and sage
1/2 of the shredded cheese
2 - 3 noodles 

or so

1/2 onion, leek, pumpkin mixture
2 - 3 noodles 

or so

1/3 béchamel sauce
1/2 of the shredded cheese
Parmesan
To finish:
Cover and bake 425F (215C) for 20 minutes, or until noodles are done.  Test in center with a sharp knife. 
Uncover and bake 5 minutes longer to brown cheese. 
Remove and let rest for 5 minutes.  Cut into squares (or oblongs) and serve.
Apple Crisp
Total time: 50 minutes
      One of the easiest and best desserts of fall. The scent of apples baking with cinnamon brings back childhood memories of raking leaves and apple picking.  Warm from the oven is perfect, with or without some vanilla ice cream or yogurt.  Leftover apple crisp should be covered and can, but does not have to be, refrigerated.  It will keep for several days and we have plans for it.
 Ingredients:
4 tart apples, Granny Smith are perfect
2/3 cup brown sugar
1/2 cup flour
1/2 cup rolled oats (oat meal)  if you don't have any substitute 1/4 cup more flour
1 tsp cinnamon
1 tsp nutmeg
1/3 cup butter, plus a bit more for the pan
 Instructions:
Butter and 8 X 8" (20 X 20cm) square baking dish. 
Peel and slice apples and spread in baking dish. 
Mix sugar, spices, flour and oats. 
Cut in butter, using a pastry cutter, 2 knives or forks, until it resembles small pebbles. 
Sprinkle over apples.  
Bake 30 minutes at 375F (185C), until top is bubbly.
Note: We're adjusting the oven temp to accommodate the lasagne - see instructions below.
Cooking Schedule: 70 minutes
Assemble all ingredients and utensils
Utensils: measuring cups, spoons, knives,
whisk, medium saucepan, small skillet, medium
skillet, baking dish for lasagne, cheese grater,
baking dish for apple crisp, medium bowl,
pastry cutter
Turn oven on, 425F (215C), arrange 2 shelves
Slice onions, leeks, sauté in medium skillet
Melt 3 tbs butter in saucepan
Cover onions, leeks
Add flour, nutmeg to butter, whisk
Whisk in milk, continue until sauce is finished
Remove sauce from heat, set aside
Uncover onions, leeks
Cut ham
Sauté sage in small skillet

Add ham to sage, sauté
Add pumpkin to onion/leek, heat through
Grate Parmesan if needed
Assemble lasagne
Cover lasagne, bake
Mix dry ingredients for Crisp
Cut in butter
Butter baking dish
Peel, slice apples
Arrange apples in baking dish
Top with crumble mixture, bake
Uncover lasagne after 20 minutes
Turn oven down to 375F (185C)
     5 minute pause
Remove lasagne, let rest
Cut lasagne, serve
Remove apple crisp when done, cut and serve