Hamburger Steak with Cheese and Fried Onions
Potato Crisps with Sage
Sautéed Butternut Squash
Cooking time:   45 minutes for menu          Cooking schedule: see below for instructions
    Okay, Hamburger Steak is an oxymoron, but it sounds more like a nice dinner than Burger Patty..... Whatever - it's easy and delicious. Yes, they're a big.... Make them even bigger if you like.
Hamburger Steak with Cheese and Fried Onions
Total time: 20 minutes
    Just a big burger topped with cheese and fried onions.  Nothing fancy, simple, 'diner' style cooking... These are Fried Onions, not Caramelized Onions....
 Ingredients:
12oz ground beef (mince - 360gr)
2 medium onions
1 tsp Worcestershire Sauce
2 tsp olive oil
1oz (30gr) cheese, Colby or Cheddar, sliced 
 Instructions:
Thickly slice onions. 
Heat oil in a large nonstick skillet over medium-high heat.  Add onions and quickly fry until very brown and starting to crisp. 
Add Worcestershire and stir well to combine. 
Remove and set aside.
Return the skillet to medium-high heat.
Divide the beef and make 2 loose patties, barely handling the meat.  (I just cut the package in half). 
Add the beef and sauté, 2 - 5 minutes per side, depending on how you like it done. 
When ready, lay the sliced cheese on the beef, top with onions and cover until cheese melts. 
Remove and serve.
Potato Crisps with Sage
Total time: 55 minutes 
    These get quite a dark, golden brown and very crispy.  If you prefer them softer bake them for 20 minutes rather than 30 before adding the sage.  Based on a recipe from Cooking Light Magazine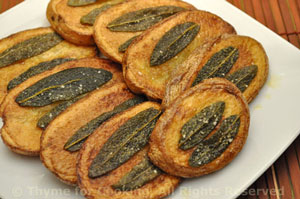 Ingredients:
2 - 4 potatoes, depending on size, 12 - 16oz (400gr) total weight
2 tbs olive oil
15 - 20 large sage leaves
sea salt
 Instructions:
Cut potatoes the long way into 3/16 inch (.4cm) thick slices.  You should get around 5 slices from each potato - the first and last slices, being mostly peel and not flat, should be discarded. 
Put olive oil in large bowl and add potato slices.  Mix with fingers to coat each slice. 
Remove potato slices and put on baking sheet with low edge - nonstick, if you have it. 
Bake in 400F oven for 30 minutes. 
Put the sage leaves in the bowl and toss to coat with oil - using fingers and adding oil if necessary. 
After 30 minutes remove potatoes from oven.  With spatula lift up each potato slice and place a sage leaf under it. 
Return to oven for 10 minutes. 
Remove potatoes and turn them so that the sage leaf is on top. 
Bake for another 10 minutes. 
Remove from oven and sprinkle with salt.  Serve immediately.
Sautéed Butternut Squash
Total time: 20 minutes
     Butternut squash, onions and sage, fried to a golden brown... A simple preparation for this savory fall vegetable.  Finish with a bit of fresh pepper and sea salt.  
 Ingredients:
12oz (360gr) butternut squash 

2 - 3 cups small chunks

1 onion
10 - 12 fresh sage leaves 

substitute 1 tbs dried

1 tsp paprika
2 tsp olive oil
2 tsp butter
 Instructions:
Slice butternut squash, (.5", 1.25cm) then cut into bite-size cubes.
Roughly chop onions. 
Heat butter and oil in a large, nonstick skillet over medium heat. 
Add squash, onions and sauté 10 - 15 minutes, until squash is nicely browned. 
Snip the sage leaves into large pieces if using fresh. 
Sprinkle squash with sage, paprika and sauté 5 minutes longer.  Serve.
Note:  To clean butternut squash first peel it, using a potato/vegetable peeler.  If it's large (typically) cut it in half between the 'neck' and 'bowl' ends.  Then cut those in half the 'long' way.  Scoop the seeds out of the round end and discard.  I use the neck end for uniform pieces and the bowl end for soups and smaller pieces.
Cooking schedule: 45 minutes
Assemble all food, utensils and serving dishes
Utensils: measuring cups, spoons, knives,
baking sheet, medium bowl (used 2X), large skillet,
lid, medium skillet
Turn oven on 400F (200C)
Slice potatoes
Combine potatoes, olive oil
Arrange on baking sheet, bake
Add whole sage leaves to oil
Thickly slice onion for burgers
Heat oil in large skillet, add onions, fry
Peel, clean and cut squash, if needed
Chop onion

Add Worcestershire to onions for burgers, stir well
Remove, set aside
Make beef patties
Remove potatoes, add sage leaves, return
Sauté squash and onions
    Pause while everything comes together
Turn potatoes
Return skillet to heat, add beef patties, fry
Stir the squash
Turn beef patties
Add paprika, sage to squash
Add cheese, onions to beef, cover, finish
Remove potatoes
Serve