Honey Mustard Pork
Sautéed Potatoes and Onions
Broccoli with Garlic Butter
Cooking time:  35 minutes for menu           Cooking schedule: see below for instructions
          Braising pork chops keeps them moist and tender; honey and mustard are another classic pairing.  Together, it makes a simple, sweet-savory mid-week dinner.   Fry a few potatoes and onions, and steam the last of the broccoli to round out this easy dinner.
Honey Mustard Pork Chops
Total time: 35 minutes
      Pork chops get fork-tender in no time when gently braised.   I prefer thinner, boneless chops for this spicy/sweet honey mustard sauce. They stay tender and moist, and the reduced sauce makes this a lovely main course.
 Ingredients:
2 - 4 boneless pork chops, 12oz (360gr) total weight
1/2 onion
1 tbs olive oil
1/2 cup (4oz, 120ml) chicken broth
1/2 cup (4oz, 120ml) white wine
1 tbs whole grain mustard
1 tbs honey
1 tbs sherry vinegar or cider vinegar
 Instructions:
Chop onion.
Heat oil in nonstick skillet.  Add onions and sauté until tender.
Move onions to the side and add pork chops.  Brown on both sides, about 10 minutes total. 
Add remaining ingredients, cover, reduce heat and simmer 15 minutes. 
Increase heat to medium-high.  Uncover, remove pork and keep warm. 
Stir sauce well and boil until it reduces by half, about 5 minutes. 
Spoon over pork and serve.
Sautéed Potatoes and Onions
Total time: 30 minutes
      A simple dish but so easy and full of flavor; cooking doesn't have to be complicated!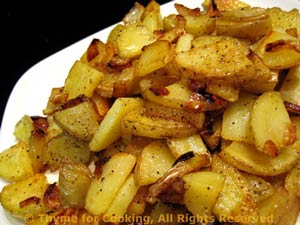 Ingredients:
2 medium potatoes
1/2 onion
2 cloves garlic
1 tbs olive oil
 Instructions:
Chop onion and mince garlic.
Sauté onion in oil in nonstick skillet over medium heat until just transparent. 
Add garlic and sauté a minute longer.
Meanwhile, slice the potatoes - the long way, first in half, then in half again.  Now slice (the short way) about 1/4 inch thick.  We are aiming for bite size so if you have a huge potato, adjust accordingly.
Remove onions & garlic from pan and add potatoes - with a drop more oil if needed.
Sauté potatoes until light brown, stirring and flipping as needed.
Return onions and garlic to pan
Continue to sauté until onions start to brown and potatoes are cooked through (taste one) and well browned.
Salt & pepper if desired, and serve. 
Broccoli with Garlic Butter  
Total time: 20 minutes
     A bit of garlic and butter can really bring out the flavor of broccoli and raise it from the mundane to the fantastic!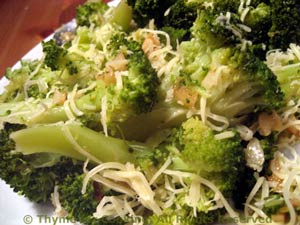 Ingredients:
1/2 head broccoli   enough for 2 persons
2 tbs butter
3 cloves garlic
2 tbs shredded cheese
 Instructions:
Cut broccoli into bite size florets and stems.
Put in steamer basket in saucepan with an inch of water in bottom.  Put on medium heat and steam for 12 - 15 minutes or just until done, careful not to overcook. 
Remove from pan and set aside, discarding water.
In same pan heat butter.
Mince garlic and add to pan.
Sauté briefly, then add broccoli.  Toss well to coat.
Put broccoli into the serving dish, sprinkle with cheese and serve.
Cooking schedule: 35 minutes
Assemble all food, utensils and serving dishes
Utensils: measuring cups, spoons, knives,
medium nonstick skillet, large skillet, steamer basket
and saucepan with lid
Chop onion, divide in half, sauté in each skillet
Mince all garlic
Cut potato
Add garlic to skillet for potatoes
Brown pork chops in other skillet (move onions aside)
Remove onions, garlic from potato skillet
Add potatoes, fry
Turn chops

Cut broccoli
Flip, stir potatoes
Add remaining ingredients to chops, cover, simmer
Steam broccoli
     Pause while stuff cooks
Mind the potatoes
Return onions/garlic to potatoes, stir, fry
Remove broccoli, discard water
Sauté garlic for broccoli
Uncover chops, remove, reduce sauce
Add broccoli to garlic
Finish potatoes, broccoli
Pour sauce over pork, serve