Chicken Mushroom Chowder 'Vesuvius'
Baked Apples
Cooking time:   25 minutes for menu          Cooking schedule: see below for instructions
    Leftover soup and baked apples: another easy midweek dinner.  Stop at the bakery on the way home to pick up a crunchy country baguette to round out the meal... and dip in the egg
Chicken and Mushroom Chowder 'Vesuvius'  
Total time: 15 minutes
   
If one can put an egg on pizza, why not add one to soup?  A poached egg nestled in the center of the chowder adds interest, flavor and a bit more protein to stretch the leftovers.  Plus, it's delicious!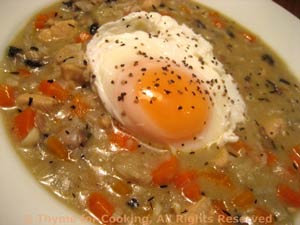 Ingredients:
Chicken Mushroom Chowder
chicken stock, optional
2 eggs
3 tbs vinegar,  any flavor, it's to help keep the eggs shaped nicely
 Instructions:
Gently reheat soup.  If it's too thick, thin with a bit of chicken stock
While soup heats poach egg: Fill a large skillet with water.  The water should be at least 1 1/2 inches deep, 2 inches (5 cm) would be better. 
Heat water over medium-high heat.  Add vinegar. 
When water is softly boiling poach eggs: one at a time break egg into a small saucer.  Swirl a spoon in the water where you will put the egg - off to one side.  When water is swirling drop egg into center.  With slotted spoon try to keep the white together. 
Do next egg. 
With regular spoon scoop some hot water over tops of eggs.
Poach for 3 - 4 minutes or until white is set but yolk is still very soft.
 When eggs are almost done ladle soup into bowls.  Remove eggs with a slotted spoon, drain briefly and gently add to soup.  Serve.
Baked Apples
Total time: 30 minutes
   They perfume the house while they bake, with that wonderful 'Apple Pie' smell.  They're great as is or even better with a spoonful of vanilla yogurt or, heaven forbid, vanilla ice cream.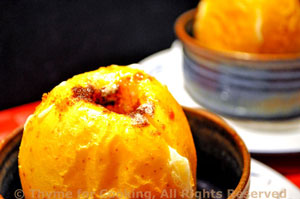 Ingredients:
2 apples, suitable for baking - Golden Delicious, Granny Smith
2 tbs butter
4 tbs brown sugar
2 tsp cinnamon
 Instructions:
Core apples - using an apple corer, often masquerading as a potato peeler.  Stick it in the stem end and twist.  It takes a bit of fussing to get all of the core out but we are not going for any beauty prizes here, so just work at it.  Do not go all the way through the bottom of the apple - we don't want the butter to run out! 
When cored to your satisfaction put half of the butter, sugar and cinnamon into each apple. 
Put them into a glass baking dish and bake at 350 for 20 - 30 minutes, until tender and juicy.  
Remove from oven and serve.
Cooking schedule: 25 minutes
Assemble all food, utensils and serving dishes
Utensils: measuring cups, spoons, knives,
baking dish, saucepan with lid, skillet
Turn oven on, 350F (180C)
Core apples
Stuff apples, bake
Gently reheat soup, thin if needed

Heat water in skillet
Add vinegar to water
Poach eggs
Spoon soup into bowls, top with egg
Serve soup - maybe with a bit of bread?
Done?
Remove apples
Serve