Pan-Seared Tuna Mustard Cream
Patatas Castellanas (Castilian-Style Potatoes)
Braised Sunchokes (Jerusalem Artichokes)
Cooking time:  30 minutes for menu          Cooking schedule: see below for instructions
     The tuna is best if done at the last minute for rare or medium rare.  We use the rest of the onion later in the week.
Pan-Seared Tuna Mustard Cream 
Total time: 15 minutes
     This is best with good sushi-grade (ahi) tuna that is quickly seared on both sides and cool or just barely warm in the center.  If you get regular tuna you will need to cook it until it is closer to medium. If you use hot mustard (like I do) this sauce will have a bit of a kick... You can, of course, use less...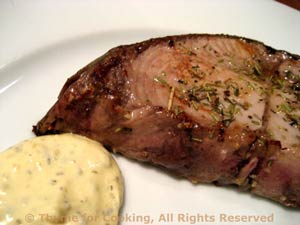 Ingredients:
2 tuna steaks, 12oz (360gr) total weight
2 cloves garlic
1 tbs olive oil
1 tbs lemon juice
sea salt for sprinkling (or other nice salt) optional
Mustard Cream:
1 tbs Dijon-style mustard
1/4 cup (2oz, 60gr) Greek yogurt
1 tbs salad olive oil
1/4 tsp garlic powder
1/2 tsp dried oregano
1/2 tsp dried tarragon
 Instructions
Peel garlic and cut in half. 
Heat oil and lemon in a large non-stick skillet over medium-high heat.
Add garlic and fry for 1 - 2 minutes.  Remove and discard.
Add tuna and sauté 3 - 5 minutes per side (depending on thickness - 3 minutes if 1 inch (2.5 cm), 5 minutes if 2 inch (5 cm)) for medium-rare, longer if you want them more done. 
Remove, sprinkle with sea salt and serve, Mustard Cream on the side.
Mustard Cream:
In a small bowl whisk together all ingredients except olive oil.
Drizzle in olive oil, whisking until combined and thick.
Patatas Castellanas (Castilian-Style Potatoes)
Total time: 30 minutes
    These flavorful potatoes, are braised in a skillet with paprika, garlic and onion, with a bit of flour to thicken. Great served with spicy pork or chicken.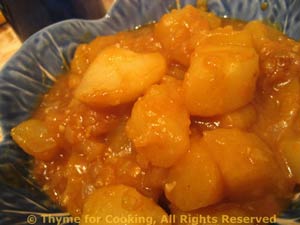 Ingredients:
2 medium potatoes
1/2 onion
2 cloves garlic
1 tsp paprika
2 tsp flour
1 tbs olive oil
1/3 cup (3oz, 90ml) chicken stock
 Instructions:
Finely chop onion and garlic.
Cut the potatoes into 1/2" (1.25cm) cubes.
Heat oil in medium nonstick skillet or large saucepan.  Add oil, onion, garlic and sauté briefly.
Add potatoes and sauté 5 minutes.
Add paprika and flour, stir well and sauté 1 minute.
Add chicken stock and stir well. 
Cover and cook until potatoes are tender, about 15 minutes.  Most of the stock should be absorbed.  Check them periodically, if they start to dry out too soon add a bit more stock. 
When potatoes are tender if there is still a bit of stock left, uncover and cook it off. Serve.
Braised Sunchokes (Jerusalem Artichokes)
Total time: 30 minutes 
    Braising can add a lot of flavor to vegetables as well as meats, usually with little or no added fat. I added Herbes de Provence to these but almost any herb will work: thyme, basil, marjoram, rosemary.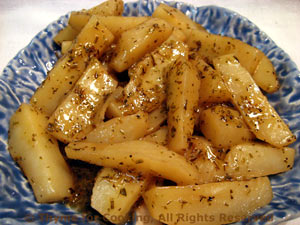 Ingredients:
2 - 3 Jerusalem artichokes

aka sunchokes

1/3 cup (3oz, 90ml) chicken stock
1 tsp Herbes de Provence or marjoram
 Instructions:
Peel sunchokes using a vegetable peeler.
Cut into sticks about 1/2" (1cm) square by 2 " (5cm) long (or however long the sunchoke is).
Put into a small skillet or medium saucepan.  Add stock and herbs, cover and bring to a boil. 
Reduce heat and partially uncover.  Simmer until tender and most of the stock is gone, 15 - 20 minutes. 
Remove, drain if necessary and serve.
Cooking Schedule: 30 minutes
Assemble all food, utensils and serving dishes
Utensils: measuring cups, spoons, knives,
large skillet with lid, medium skillet with lid, small
skillet with lid
Chop onion
Mince garlic
Sauté onion, garlic
Cut potatoes
Add potatoes to onions, sauté
Make Mustard Cream
Add paprika, flour to potatoes, stir, sauté
Add stock, stir, cover, cook

Peel sunchokes, cut
Put in skillet, add stock, herbs, cover, braise
Cut garlic for tuna
    Pause while vegetables cook
Check potatoes
Heat oil in skillet for tuna
Sauté garlic, remove
Add tuna, sear
Uncover potatoes, cook off any liquid
Turn tuna, sear
Finish sunchokes
Remove tuna
Serve, Mustard Cream on the side