Grilled Pork Tenderloin with Ginger Barbecue Sauce
Quinoa Pilaf
Sautéed Courgette (Zucchini) / Lemon Thyme & Walnuts
Cooking time: 40 minutes for menu      Cooking schedule: see below for instructions
      The herb garden is in full swing now. If you don't have your own garden you may not want to use as many.  We're making extra quinoa for another salad later in the week.
Grilled Pork Tenderloin with Ginger Barbecue Sauce
Total time: 35 minutes
     Try not to overcook pork; slightly pink on the inside is now acceptable and keeps the meat moist and succulent.  Put some of the barbecue sauce in a separate bowl to be used for basting and discard or cook any leftover basting sauce.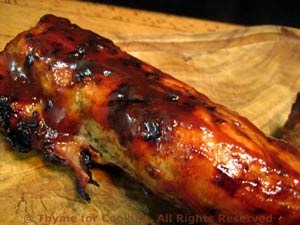 Ingredients:
1 pork tenderloin, about 14oz (420gr)
1 tbs paprika
1 tsp garlic powder
1/2 cup

Ginger Barbecue Sauce
 Instructions:
Mix paprika and garlic powder.  Rub over pork. 
Put pork on barbecue or in 400F (200C) oven for 25 - 30 minutes.  Turn occasionally to brown on all sides. 
Baste pork with barbecue sauce after 15 minutes.  Baste 2 - 3 times.  When you think pork is done slice into middle to check.  It should be done to an internal temp of 145F (62C). 
Remove, slice about 1/2" (1.5cm) thick and serve, drizzling with any remaining barbecue sauce.
Ginger Barbecue Sauce
Time: 10 minutes
Similar to our regular barbecue sauce but a bit spicier with the ginger and mustard. This will keep a week in the fridge.... But it never lasts that long.   Adding the full 2 tsp of mustard and ginger will make it a bit spicy/hot
 Ingredients:
1 cup (8oz (240ml) tomato sauce
2 tbs molasses
2 tbs cider vinegar

or other vinegar

1 - 2 tsp dry mustard   

try 1 tsp, taste after heating, add more if you like

1 - 2 tsp ground ginger 

try 1 tsp, taste after heating, add more if you like

1 tbs soy sauce
 Instructions:
Heat all ingredients in a small saucepan, whisking to combine. 
Bring to a simmer just long enough to combine all ingredients.  
Note: Remove 2 - 3 tbs barbecue sauce to use for basting rather than dipping the basting brush or spoon into that entire sauce.  
Quinoa Pilaf 
Total time: 25 minutes  
    The thing I like best about Pilafs (other than the taste) is they are equally good hot, warm or cold, making them perfect for summer cooking, when we all want to be a bit more relaxed.
 Ingredients:
3/4 cup (5.2oz, 155gr) quinoa 
1 1/2 cups (12oz, 360ml) chicken stock
2 carrots
1 rib celery
1 medium onion
2 tsp olive oil

6 - 8 cherry tomatoes 

for garnish
 Instructions:
Put quinoa and stock in a small saucepan, cover and bring to a boil. 
Reduce heat and simmer until done, about 15 minutes  (or whatever your package says).
Chop celery, carrots and onion. 
Heat oil in a small skillet and sauté onion, celery and carrots for 5 minutes. 
Cut cherry tomatoes in half. 
When quinoa is done, stir in sautéed vegetables.  Spoon half into a bowl and serve, garnished with tomatoes.
Refrigerate half of the Pilaf for the Salad.
Sautéed Zucchini (Courgette) / Lemon Thyme and Walnuts 
Total time: 25 minutes
    I have lemon thyme and lemon basil in my garden and love using it with courgette (and fish).  Use regular thyme and basil tossed with 1/4 tsp lemon juice as a substitute. Don't crowd the slices or they will steam, rather than fry... and won't get the lovely brown crust.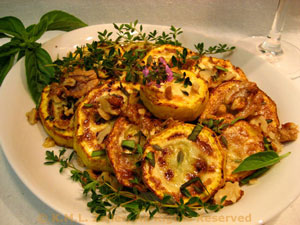 Ingredients:
1 yellow or green courgette (zucchini), 8 inches (20cm) long 
1oz (30gr) walnut halves
several sprigs of lemon thyme or regular thyme
1 tbs lemon basil or regular basil plus 1/4 tsp lemon juice
2 tsp butter, divided
1 tsp olive oil
 Instructions:
Slice the blossom end off of the zucchini, then slice it into 1/2 inch (1 cm) rounds.  Don't bother with the thin, stem end.   (Slice as much as you'll want to eat; I did about 12 slices. 
Heat 1 tsp butter and the oil in a nonstick skillet over medium heat.  The skillet needs to be large enough to hold all of the slices flat.
Add zucchini slices and fry about 8 - 12 minutes.  Check after 8 by lifting up with tongs and looking at the bottom; it should be getting brown spots on it.  If not, fry some more; if yes turn and fry the other side.  The other side won't take quite as long. 
When they are done the slices will have nice, browned patches on both sides and be tender. 
While the zucchini is frying, heat the remaining tsp of butter in a small skillet over medium heat. 
Add walnut halves and sauté 10 minutes, turning and stirring occasionally. 
When done, transfer to a cutting board and roughly chop. 
Snip basil and pull the thyme leaves off the stems. 
When zucchini is done, remove to a platter, arranging nicely.  Sprinkle with herbs, chopped nuts, salt and pepper if desired, and serve.
Cooking Schedule: 40 minutes for menu
Assemble all food, utensils and serving dishes
Utensils: measuring cups, spoons, knives,
scissors, small bowl, medium bowl, 2 small
saucepans with lids, small skillet, large nonstick
skillet, barbecue grill or baking sheet for pork,
barbecue tools
Turn on/light barbecue grill, if using (or oven, 400F)
Make rub and rub on pork
Chop/slice celery, chop carrot, onion
Snip herbs
Start to cook pork
Toast walnuts
Make barbecue sauce
Remove walnuts

In same skillet, sauté carrots, celery, onion for pilaf
Roughly chop walnuts
Mind pork, turn 
Turn carrots, celery, onions off, remove from heat
Slice courgette
Cook quinoa
Sauté courgette
Mind pork, baste
Turn courgette
Baste pork
     Pause while everything finishes
Remove pork
Remove courgette, finish
Finish quinoa
Slice pork; Serve all