Chicken with Spicy Teriyaki Marinade
Basmati Pilaf Oriental
Sautéed Teriyaki Courgette (Zucchini)
Cooking time:  30 minutes for menu           Cooking schedule: see below for instructions
          Oriental flavors do very well on the grill.  With a simple pilaf and sautéed vegetables on the side, this is an easy summer dinner. 
Spicy Teriyaki Chicken Breasts 
Total time: 25 minutes
    Using a hot mustard with the Teriyaki sauce gives these chicken breasts an intense flavor. Poke the breasts with a fork to let the marinade seep deeper into the chicken.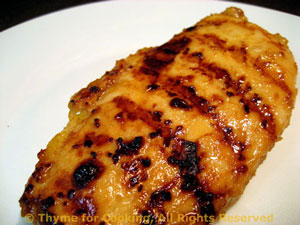 Ingredients:
2 chicken breasts, boneless, skinless
1 tbs Dijon-style or spicy brown mustard
3 tbs Teriyaki sauce
1/2 tsp garlic powder
1/4 tsp ground ginger
 Instructions:
Mix all ingredients except chicken in a small bowl.  
Pour over the chicken and let marinate for 10 - 15 minutes. 
When ready, cook on barbecue grill for 10 - 12 minutes, turning once or under broiler for same amount of time or sauté in nonstick skillet for 12 - 15 minutes; in all cases cook until done. 
Remove chicken, slice nicely (if you want... or not) and serve.
Rice Pilaf, Oriental
Total time: 25 minutes   or whatever your package says 
    It's a simple thing: first sauté the shallot and garlic, then sauté the rice; but it mellows the garlic and shallot and imbues the rice with their scents, more than just cooking together would ever do.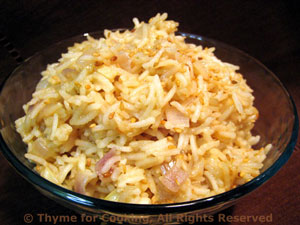 Ingredients:
1/2 cup (3.3oz, 95gr) Basmati rice
2 shallots
2 cloves garlic
1 tbs butter
1 cup (8oz, 240ml) chicken stock
1 tbs sesame seeds
2 tsp Teriyaki or soy sauce
 Instructions:
Finely chop shallots and mince garlic (see techniques). 
Melt butter in small saucepan over medium heat.
Add shallots, garlic and sauté about 5 minutes, or until softened.  
Add rice and sauté, stirring for 1 minute longer. 
Add stock, cover and cook rice for length of time on package. 
When done stir in sesame seeds and soy sauce, fluff with a fork and serve.
Note: You can toast regular sesame seeds in a small, dry, skillet over medium heat for 5 - 7 minutes, until light brown.
Sautéed Teriyaki Zucchini (Courgette)
Total time: 25 minutes
   Thickly sliced, then fried in oil.  The Teriyaki sauce added near the end forms a wonderful glaze.... Another variation for zucchini.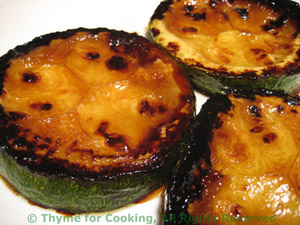 Ingredients:
1 yellow or green courgette (zucchini), 8 inches (20cm) long
1 tbs olive oil
2 tbs Teriyaki sauce
 Instructions:
Cooking schedule: 30 minutes
Assemble all food, utensils and serving dishes
Utensils: measuring cups, spoons, knives,
small bowl, dish for marinating, small saucepan with
lid, large nonstick skillet, barbecue grill or skillet,
small skillet
Mix marinade, pour over chicken
Chop shallots
Mince garlic
Sauté garlic, shallots for rice
Slice zucchini
Add rice to shallots, sauté

Sauté zucchini slices
Add stock to rice, cover, simmer
Start to cook chicken
    Tidy up the kitchen, wait for stuff to cook
Turn chicken
Turn zucchini slices
Toast sesame seeds
Remove chicken breasts, let rest
Add Teriyaki to zucchini, turn to coat
Add Teriyaki. sesame seeds to rice, fluff
Slice chicken
Remove zucchini, rice to nice dishes; Serve