Grilled Scallops on Avocado Sauce
Barley with Chives
Lentils Provençal
Cooking time:  45 minutes for menu          Cooking schedule: see below for instructions
       You can substitute shrimp or any firm white fish for the scallops.  Any leftover Avocado Sauce is great as a dip or sandwich spread. Half of the lentils will be used on Monday.
Grilled Scallops on Avocado Sauce
Total time: 20 minutes
   With the sweet scallops and creamy avocado, this is a rich dish.... I served fewer scallops than usual.  Use a grill pan or basket for easy handling and be careful not to overcook.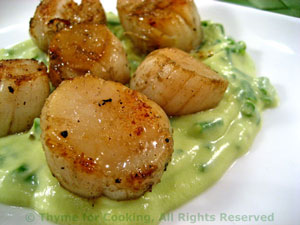 Ingredients:
 Instructions:
Mix oil, cumin and lime juice. 
Add scallops and stir to coat.
Avocado Sauce:
Purée avocado, yogurt, lime juice and chicken stock in a blender until smooth. 
Stir in chives.
Grill scallops over direct heat 3 - 5 minutes per side, just until they are opaque.

Note:

  Could also be quickly sautéed in a nonstick skillet over medium high heat for about the same amount of time.

To serve:

Divide Avocado Sauce and spoon onto 2 plates.  Arrange scallops on Sauce and serve.
Barley with Chives
Total time: 20 minutes 
   Barley is not just for soup!  It's a hearty, nutritious grain; easy to cook and flavorful.  I get the quick-cooking barley which takes about 15 minutes.  Cooked in chicken stock and finished with a bit of oil and fresh herbs, it's chewy texture is a fun change from rice or pasta.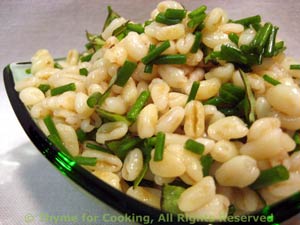 Ingredients:
1/2 cup (2.8oz, 80gr) quick-cooking barley
1 cup (8oz, 240ml) chicken stock (or more, depending on type of barley)
3 tbs fresh, snipped chives
1 tbs fresh, snipped basil
1 tbs good olive oil
 Instructions:
Cook barley in stock until done, stirring occasionally. If all stock is not absorbed, drain. 
Stir in olive oil, herbs and serve.
Lentils Provençal
Total time: 45 minutes  
     I use the tiny, green lentils de Puy, but you can use the larger brown or tan lentils. Do not use the red ones, they get too mushy. With the shallots, garlic, olives and mustard it's reminiscent of long, slow lunches in Provence. 
 Ingredients:
2/3 cup dried lentils
2 cups (16oz, 480ml) chicken stock
1 bay leaf
3 shallots
2 cloves garlic
2 tsp olive oil
12 Greek olives
1 tbs fresh parsley  

substitute 2 tsp dried

1 tbs Dijon-style mustard
 Instructions:
Briefly inspect the lentils in case someone missed the odd stone.  Rinse and drain.
Cook the lentils in water and/or stock, with the bay leaf, about 30 minutes / according to package directions or until done. 
When done, remove from heat and drain if needed. Remove the bay leaf.
Finely chop shallots and mince garlic. 
Heat oil in medium skillet over medium heat.  When hot add shallots and garlic, sauté until tender, about 10 minutes. 
Pit the olives if needed. 

(I place them on a board, lay the blade of a heave knife flat on top and smack the knife with my hand, smashing the olive.  This cracks them and the pits can easily be picked out.  You could use a meat pounder, too.)

Roughly chop olives and add to shallots along with the parsley and lentils.  Heat through. 
Stir in the mustard and serve.
Cooking Schedule: 45 minutes
Assemble all food, utensils and serving dishes
Utensils: measuring cups, spoons, knives,
scissors, medium bowl, medium skillet, 2 small
saucepans with lids, blender, BBQ grill, basket, mat
or pan or large skillet
Light barbecue if using charcoal
Pick over lentils, rinse, start to cook
Snip all herbs
Chop shallot, mince garlic
Pit olives if needed
Mind the lentils
Squeeze lime
Make Avocado Sauce

Start to cook barley
Sauté shallots, garlic
Mix cumin, lime, oil
Add scallops, stir, set aside
Turn on barbecue if using gas
     Pause while lentils and barley cook
Cook scallops
Drain lentils, refrigerate half
Add other half of lentils to shallots with parsley
Turn scallops
Add mustard to lentils, finish
Add chives, basil to barley and finish
Spoon Avocado Sauce on plates, add scallops
Serve all and enjoy!