Grilled Filet Mignon with Glazed Mushrooms
Pasta with Fresh Tomato Sauce
Sautéed Carrots
Cooking time: 35 minutes for menu      Cooking schedule: see below for instructions
       We don't often have steak - but there is something about summer and cooking on outdoors, that just seems to call for it.  Use any cut you like.
Filet Mignon with Glazed Mushrooms
Total time: 35 minutes 
     Small, thick-cut filet mignon are perfect done on the barbecue grill.  A wrap of bacon adds flavor and helps the steak stay moist.   We've painted these with a light marinade and served with some savory glazed mushrooms.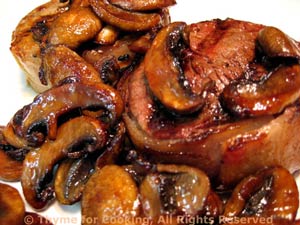 Ingredients:
2  6oz (180gr) filet mignon steaks (tournedos)
2 - 4 strips bacon 

optional

4oz (125gr) mushrooms
1 tbs butter
1 tbs Worcestershire Sauce
Marinade:
1 tbs olive oil
1 tbs Worcestershire Sauce
1 tbs ketchup
1/2 tsp dried oregano
1/2 tsp chili powder
1/2 tsp garlic powder
 Instructions:
Wrap bacon around steaks (if using) and secure with toothpicks or kitchen string. 
Mix Worcestershire sauce, oil, ketchup, oregano, chili, garlic and brush on steaks.  Set aside.
Clean mushrooms and thickly slice. 
Heat butter and Worcestershire in medium nonstick skillet over medium heat. 
Add mushrooms and sauté, stirring frequently, until they are dark and glazed, about 10 minutes.  You may have to turn the heat down a bit after 7 or 8 minutes.  Set aside and partially cover to keep warm.
Cook steaks on barbecue grill until done to your liking.  We'll cook ours about 3 minutes per side for medium rare, 4 - 5 minutes per side for medium, but it depends on.... thickness of steak, heat of grill, etc. 
Put a steak on each plate, spoon mushrooms on the side and serve. 

Note:

  Could be done under the broiler (grill) for about the same time.
Pasta with Fresh Tomato Sauce
Total time: 25 minutes   
     With all of the garden fresh tomatoes of summer why have a cooked sauce?  This is so simple, so good, so fresh and so, well, summery. 
Just be careful not to grate your hand.....  And make sure your tomatoes are at their peak!
 Ingredients:
1 cup (2.8oz, 80gr) dried farfalle pasta 
2 - 3 fresh garden tomatoes 
2 - 3 tbs fresh basil, large leaves torn or snipped
salt and pepper (optional)
 Instructions:
If they're not garden ripened, flavorful tomatoes you might have to add some Balsamic vinegar and olive oil... but that defeats the idea!
Sautéed Carrots
Total time: 25 minutes
      I always have carrots in my fridge.  They keep well so don't have to be used right away and it's nice to have a veg around in case of emergency!  Besides, they're good and good for us!
 Ingredients:
2 - 3 carrots 
1 tbs olive oil
1 tbs butter
1/4 cup chicken stock
 Instructions:
Peel carrots, cut in half, then each half again so you have carrot sticks. 
Melt butter and oil in a small skillet just big enough to hold carrots. 
Add carrots and sauté 10 minutes, turning occasionally until they develop a golden color.
Add stock, cover and continue cooking until done, another 7 - 10 minutes. 
Uncover, cook off pan juices and serve.
Cooking Schedule: 35 minutes
Assemble all food, utensils and serving dishes
Utensils: measuring cups, spoons, knives,
scissors, whisk, small bowl, medium bowl, small
skillet with lid, pot for pasta, colander, barbecue
grill and tools
Put water on high heat for pasta
Wrap bacon around steaks, secure
Make marinade for steaks brush on
Cut tomatoes in half, grate
Put tomato sauce in bowl for pasta
Clean, slice mushrooms
Turn on/light barbecue grill

Clean, cut carrots
Cook pasta
Sauté mushrooms
Sauté carrots
Snip basil, add to tomato sauce
Mind the mushrooms, carrots
Add stock to carrots, cover, reduce heat, simmer
Cook steak
Drain pasta, rinse, drain well
Uncover carrots, finish
Turn steaks
Add pasta to sauce, stir
Remove steaks, serve all