Tuna and White Bean Enchiladas
Cooking time:  35 minutes for menu      Cooking schedule: see below for instructions
      You could use shredded turkey or chicken in these as well as the tuna.  I use Gruyère cheese but Colby or Cheddar would be equally good.  The green olives work well with both the tuna and the sauce, rounding out the flavors. 15 minutes to assemble, 20 to bake!
Tuna and White Bean Enchiladas
Total time: 35 minutes
     A different twist on the traditional enchilada, this has a white sauce, white beans and white cheese... Enchilada Blanca....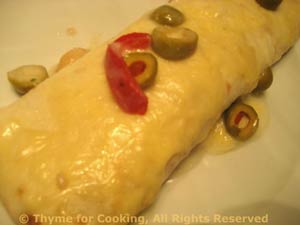 Ingredients:
1 onion
1/2 green bell pepper
4oz (120gr) pimiento or roasted red peppers
4oz (120gr) green chilies
1 rib celery
3 cloves garlic
1 tbs olive oil
9oz (270gr) tuna
1 3/4 cups (15oz, 450gr) white beans (cannellini)
1 cup (4oz, 120gr) shredded Gruyère cheese - divided
1/2 cup green olives - pimento stuffed
2 cups (16oz, 480ml) chicken stock
3 tbs cornstarch (maizena) dissolved in 3 tbs chicken stock
1/2 cup (4oz, 120ml) Greek or plain yogurt or sour cream
4 corn or wheat tortillas
 Instructions:
Chop onion, green pepper and celery. 
Finely chop garlic.
Drain chilies, pimiento, and tuna.
Chop chilies if whole.
Slice pimiento.  Slice olives.
Drain and rinse beans.
Heat oil in medium nonstick skillet.  Add onion, pepper, celery and garlic.   Sauté until vegetables are tender, 5 - 7 minutes.
Remove from heat. Add green chilies, tuna and white beans.
Heat chicken stock to boiling.
Dissolve cornstarch in chicken stock.
Stir cornstarch into simmering broth to thicken.
Remove from heat and stir in yogurt.
Put 1/2 cup of the sauce into a baking dish large enough to hold 4 enchiladas.
Add 1/2 cup of the sauce and 1/2 cup of the cheese to the tuna mixture.
Divide the tuna mixture into fourths.
Lay 1/4 of the pimiento slices on each tortilla.
Spoon 1/4 of the tuna/bean mixture on top and roll up. Place seam side down on the sauce in the baking dish.
Pour the rest of the sauce over the finished enchiladas, sprinkle with the remaining 1/2 cup cheese and the olives.
Bake at 375F (190C) for  20 minutes, until heated through and cheese is bubbly.
Cooking schedule: 35 minutes
Assemble all food, utensils and serving dishes
Utensils: measuring cups, spoons, knives,
large skillet, baking dish, large bowl
Turn oven on 375F (190C)
Chop onion, pepper, celery
Mince garlic
Sauté vegetables
Heat stock
Open, drain tuna
Open, drain chiles, chop if whole
Cut olives
Open, drain pimento

Open, drain, rinse beans
Dissolve cornstarch in stock
Thicken sauce
Add yogurt, stir
Add tuna, chiles to vegetables
Add sauce, cheese to tuna/vegetables
Spread sauce in baking dish
Assemble tortillas
Top with sauce, cheese, olives
Bake until hot
   20 minute break
Back?
Remove and serve