Turkey Cutlets with Sherry and Almonds
Fried Rice with Savoy Cabbage
Cooking time: 30 minutes for menu          Cooking schedule: see below for instructions
     Thinly sliced turkey cutlets cook quickly and lend themselves well to all types of sauces and treatments.   If you can't find them you can substitute chicken breasts or get a turkey tenderloin or breast and either slice it yourself or have your butcher do it for you.
Turkey Cutlets with Sherry and Almonds
Total time: 15 minutes
     Much more economical than the traditional veal cutlets, breaded turkey with a light sherry and almond sauce is an impressive, but simple dish.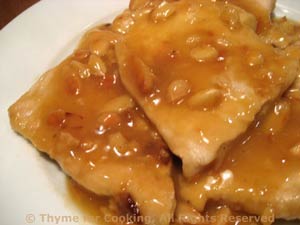 Ingredients:
2 - 4 turkey cutlets, depending on size, 12oz total (360gr)
2 tbs flour
1/4 cup (1oz, 30gr) slivered or roughly chopped almonds
1/4 cup (2oz, 60ml) chicken stock
1/4 cup (2oz, 60ml) sherry
1 tbs olive oil
1 tbs butter
2 tsp cornstarch dissolved in 1 tbs chicken stock
 Instructions:
Fried Rice with Savoy Cabbage
Total time: 30 minutes 
   Savoy or green cabbage is leafier than the traditional white cabbage.  It cooks quickly and is perfect if it retains a slight crunch.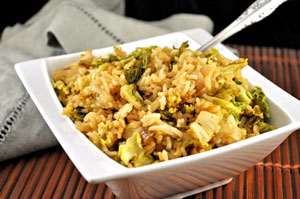 Ingredients:
1/2 cup (3.3oz, 95gr) Basmati rice
1 cup (8oz, 240ml) chicken stock
2 shallots
1/3 of a large head of Savoy cabbage, 6oz (180gr)
2 tsp olive oil
1 tbs soy sauce
1 tbs Balsamic vinegar
 Instructions:
Cook rice in stock until done.  Remove from heat and uncover. 
Remove dark green outer leaves from cabbage. Cut off a thick slice, avoiding the core. Lay flat, cut into 3 or 4 wedges, then thinly slice the wedges.
Clean and slice shallots.
Heat oil in a large nonstick skillet.  Add shallots and sauté until just starting to brown. 
Add cabbage and sauté until crisp-tender, 5 - 8 minutes longer.  
Add rice, soy sauce and vinegar.  Stir well to combine. 
Stir-fry for 3 - 5 minutes longer. Serve.
Cooking schedule: 30 minutes
Assemble all food, utensils and serving dishes
Utensils: measuring cups, spoons, knives,
large nonstick skillet, plate, small saucepan with lid,
large skillet
Cook rice
Slice shallots
Trim, cut cabbage
Sliver almonds (or chop) if needed
Dredge turkey cutlets in flour
Heat oil in skillet, sauté cutlets
Sauté shallots

Turn cutlets
Add cabbage to shallots, sauté
Remove cutlets
Sauté almonds
Dissolve cornstarch in stock
Add sherry, stock to pan, deglaze
Thicken sherry/stock
Return cutlets to pan, cover, simmer over low heat
Add rice, soy sauce, vinegar to cabbage, stir-fry
Remove turkey to platter
Spoon sauce over, sprinkle with almonds
Serve all and eat!