Shrimp with Capers, Lemon, and Feta on Orzo
Broccoli with Garlic Chips
Cooking time:  30 minutes for menu          Cooking schedule: see below for instructions
      Shrimp with a Mediterranean twist and a simple Broccoli to start the weekend.
Shrimp with Capers, Lemon, and Feta on Orzo
Total time: 25 minutes 
  Shrimp with a Mediterranean flavor: capers, lemon, feta, black olives, served on a bed of herbed orzo.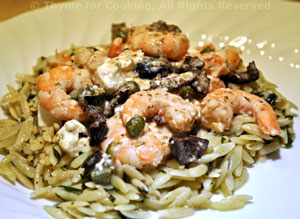 Ingredients:
12oz (360gr) shrimp
1 lemon, 3 - 4 tbs juice
2 tbs capers
15 Greek dry-cured olives
2 tbs Greek or plain yogurt
3oz (90gr) feta cheese
3 tbs good olive oil, divided
1/2 cup (4.5oz, 130gr) orzo
1/2 tsp dried basil
1/2 tsp dried oregano
 Instructions:
Cook orzo in rapidly boiling water according to package directions.  Drain.
Toss orzo with herbs and 1 tbs olive oil.
Clean shrimp if needed.
Juice lemon.
Pit and roughly chop olives.
Cut feta into small cubes.
Heat 2 tbs oil in a large skillet.
Add shrimp, cook until they curl and turn opaque.
Add lemon juice, capers, olives and stir to combine.
Add yogurt and stir briefly.
Remove from heat and stir in feta.  

To finish: 

Divide orzo onto two plates. 
Top with shrimp and juices
Broccoli with Garlic Chips  
Total time: 25 minutes  
    Fry the garlic until it is a lovely golden brown.  The little chips are very tasty; not at all sharp like raw garlic, but not creamy like roasted.  If you prefer less garlic, just use the flavored oil - and let someone else munch on the chips.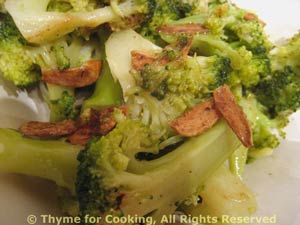 Ingredients:
1/2 medium - large head of broccoli
2 tbs olive oil
4 cloves garlic
a bit of sea salt if desired
 Instructions:
Cooking Schedule: 30 minutes
Assemble all food, utensils and serving dishes
Utensils: measuring cups, spoons, knives,
large skillet, lid, pot, colander for pasta, small skillet,
saucepan with steamer basket and lid
Put water on high heat for pasta
Clean shrimp if needed
Cut broccoli
Peel, slice garlic
Juice lemon
Pit, chop olives
Cube feta
Heat oil in small skillet for garlic chips

Add garlic, fry
Cook orzo
Steam broccoli
Heat oil for shrimp, add shrimp, cook
Add lemon, capers, olives to shrimp
Remove garlic chips, keep oil warm
Add yogurt to shrimp, remove from heat
Drain orzo when ready, add oil, herbs
Add feta to shrimp
Remove broccoli
Plate orzo, shrimp
Finish broccoli - oil, chips
Serve