Corsican Beef and Pasta 
Fried Carrots
Cooking time: 3 hours, inc. 2 1/2 hour break for menu          Cooking schedule: see below for instructions
        The Corsican Beef is traditionally served over pasta, as here. It makes enough for 4 people, or 2 meals for 2.  It should simmer for 2 or 3 hours and doesn't need any attention. It could also be made in a slow cooker and left for hours!
Corsican Beef and Pasta
Total time: 3 hours 15 minutes prep time
     This is one of those long-cooking dishes that I love doing during the winter.  It's not quite a stew and not quite a pasta.  If possible, get 1 or 2 thick slices of dry-cured ham, like Prosciutto, from the meat counter.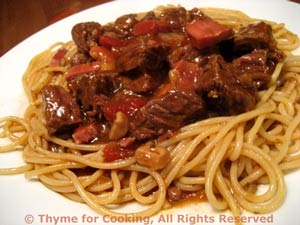 Ingredients:
24oz (720gr) beef, suitable for braising or stewing  
6oz (180gr) dry-cured ham, such as Prosciutto, Serrano
1 medium onion
4oz (120gr) mushrooms
4 cloves garlic
1 3/4 cups (15oz, 450gr) whole tomatoes, with juices
1 cup (8oz, 240ml) white wine
2 bay leaves
2 tsp dried Herbes de Provence
2 pinches nutmeg
1 tbs olive oil
4oz (120gr) pasta, spaghetti or linguini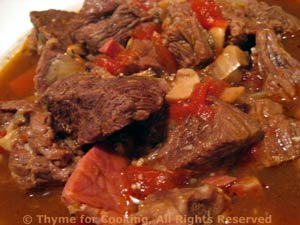 Instructions:
Fried Carrots 
Total time: 20 minutes
   The first time I made Beef Provencal the recipe instructed to fry the carrots before adding to the stew.  They were so good, I started frying them just a bit longer and eating them on their own.  It caramelizes the sugars and turns them golden and sweet.
 Ingredients:
2 - 3 large carrots
1/2 tbs olive oil
1/2 tbs butter
salt and pepper
 Instructions:
Peel and slice carrots into 1/4 inch thick (.65 cm) rounds. 
Heat butter and oil in a large nonstick skillet over medium heat. 
Add carrot slices in one layer. 
Let fry undisturbed for 8 - 10 minutes.  Check one after 7 minutes to make certain they're not getting too brown. 
Turn them over and fry the other side.  They should be getting a few light brown spots on them where the sugar (from the carrots) is caramelizing.  Fry another 7 minutes then check again.  The second side will brown faster than the first. 
When they are done to your liking, remove to a paper towel to absorb the excess oil, sprinkle with salt and pepper and serve.
Cooking Schedule: 3 hours, inc. 2 1/2 hour break
Assemble all food, utensils and serving dishes
Utensils: measuring cups, spoons, knives,
Dutch oven or soup pot with lid, large skillet, pasta
pot and colander
3 hours (or more) earlier:
Chop onion, sauté
Chop mushrooms, add to onion
Mince garlic, add to onion
Cut beef into cubes
Cut ham into pieces
Open, drain tomatoes, reserving juices
Roughly chop tomatoes
Add beef, ham to onions, stir-fry
Add tomatoes, juices, wine, herbs, nutmeg to beef

Heat to boiling
Reduce heat, cover, simmer
     2 - 3 hour break  (or more if using slow-cooker)
30 minutes before dinner:
Put water on high heat for pasta
Peel, slice carrots
     Pause while stuff cooks
Fry carrots
Cook pasta
     Pause while stuff cooks
Turn carrots
     Pause while stuff cooks
Drain pasta, toss with sauce
Remove carrots, finish
Arrange pasta, top with meat
Serve all