Chicken Breast with Chunky Tomato Yogurt Sauce
Pasta with Browned Butter and Pepper
Rutabagas with Bacon and Onion
Cooking time: 35 minutes for menu           Cooking schedule: see below for instructions
          Not sure if you like rutabagas?  Try these with a bit of bacon and onion, maybe you'll change your mind.  Or substitute carrots.  Rutabagas, turnips and parsnips don't often make their way to American tables, but they are worth getting to know.  Save the leftover Rutabagas to have with the Pork on Thursday.
Chicken with Tomato/Yogurt Sauce
Total time: 25 minutes
    This is not a 'chicken in tomato sauce' but a 'chicken with chunky tomatoes'.  If you hate tossing the tomato juice you can put it in a plastic bag and freeze it for the next time you need a bit of sauce.  The trick with using yogurt and tomatoes is not to let it boil or it may separate - no problem with taste, just appearance.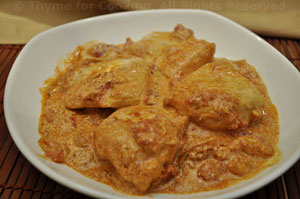 Ingredients:
2 chicken breasts, boneless, skinless
1 3/4 cup (15oz, 450gr) whole tomatoes
1/2 cup (4oz, 120gr) Greek or plain yogurt
1/2 tsp basil
1/2 tsp oregano
1/2 tbs oil
 Instructions:
Drain tomatoes, discarding or saving sauce for another use.  Roughly chop tomatoes. 
Heat oil in nonstick skillet.  Add chicken and brown lightly on both sides, about 4 minutes per side. 
Cover chicken, reduce heat and cook another 5 - 7 minutes, until the chicken is cooked through. 
Uncover, add tomatoes and herbs.   Simmer 5 minutes, uncovered. 
Add yogurt, stir well and heat through. 
Put chicken on small platter, spoon sauce over. 
Pasta with Browned Butter and Pepper 
Total time: 30 minutes
   This was a staple in my family when I was a child. It's simple to make: brown the butter and add lots of black pepper.  Salt is optional.  It works well with just about everything, or all on it's own.
 Ingredients:
 Instructions:
Cook pasta according to package directions, drain. 
Return pasta pan to medium heat. 
Add butter and sauté until it turns golden brown, being careful not to let it turn too dark or it will taste burnt. 
When brown add as much black pepper as you like, and salt if using.  The butter will foam. 
Add the pasta and quickly stir with a spatula to coat and heat through. 
Remove from pan and serve.
Rutabagas with Bacon and Onion
Total time: 35 minutes
    Rutabagas, or Swedes as they are known in the UK, are a yellow turnip.  They add sweetness to vegetable soups or stews and are excellent, braised on their own, or, as in this case, with a bit of bacon and onion.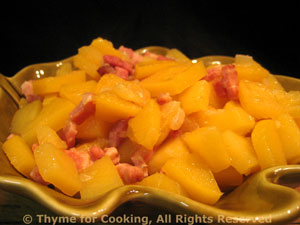 Ingredients:
 Instructions:
Peel rutabaga (with a vegetable peeler - like a potato) and cut into pieces about 1/2" X 1/4" - you will need a big knife; it's rather hard. 
Roughly chop bacon and sauté in a medium sauce pan.
When crisp remove and drain all but 1 tbs fat.
Chop onion, add to skillet and sauté until tender, about 5 minutes.
Add rutabaga, 1/2 cup water and bacon.  Bring to a boil, cover, reduce heat and simmer 15 - 20 minutes.
Test for doneness - taste, should be like a cooked potato.  When done, drain any remaining liquid, stir in butter, sherry and serve.
Cooking schedule: 35 minutes
Assemble all food, utensils and serving dishes
Utensils: measuring cups, spoons,knives,
pasta pan and colander, skillet with lid, medium
saucepan with lid
Put water on high heat for pasta
Chop bacon, sauté
Chop onion
Peel rutabaga
Remove bacon, drain fat, sauté onion
Cut rutabaga
Heat oil in skillet
Brown chicken
Add rutabaga, bacon, water to saucepan
Cover rutabaga, bring to boil, reduce heat, simmer

Turn chicken
Start to cook pasta
Open, drain tomatoes
Cover chicken, reduce heat, cook
Chop tomatoes
Stir rutabagas
      Wait while stuff cooks
Uncover chicken, add tomatoes, herbs, simmer
Test rutabagas, turn heat up if needed
Drain pasta when done
Return pasta pan to heat, add butter, brown
Drain rutabagas, add butter, sherry
Stir yogurt into chicken, gently heat through
Add pepper to butter
Add pasta to butter, stir, serve