New Year's Day


Split Pea Soup
Cheese Popovers

Cooking time:  90 minutes for menu       Cooking schedule: see below for instructions

            This may or may not be your idea of Split Pea Soup.  Some like it puréed, with mainly peas, other, like me, prefer it chunky, with more ingredients.  The split peas break down and make it thick enough for my taste and I prefer the chunks ham, potatoes, carrots and celery. 
Split Pea Soup
Total time: 1 hour 30 minutes
   Traditionally made with a ham bone or ham hock, I made this with a slab of local, dry-cured ham.  Regular baked ham would work as well.  This will make 4 servings.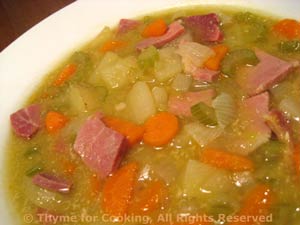 Ingredients:
1 1/4 cup (8oz, 240gr) split peas
6 cups water

2 thick slices Prosciutto, (6oz, 180gr total weight)

(for most intense flavor) 

or a meaty ham bone 

1 large onion

plus the 1/2 leftover

3 medium carrots
2 medium potatoes
3 ribs celery
 Instructions:
If using a ham bone, put in water with split peas.  If using Prosciutto or other ham, cut into bite-size chunks before adding. 
Bring ham, peas and water to a boil, cover and simmer for 45 minutes

After 45 minutes:

Roughly chop onion and add to pot.
Peel carrots.  Slice by cutting in half the long way (in 2 or mores sections) then into half circles. Add to pot. 
Peel and slice potatoes to a similar size; add to pot. 
Slice celery, cutting the wide end in half lengthwise and add to pot. 
Cover and simmer until all vegetables are done, 30 - 45 minutes longer. 
Remove ham bone, if using, and cut ham.  Add ham back to soup.
Cheese Popovers
Total time: 45 minutes
     Popovers are so easy, and so good hot from the oven, slathered in some sweet butter, of course.  The secret is simple: whisk the eggs, then lightly whisk in the milk and flour; a few lumps are okay, you don't want to deflate the eggs.
 Ingredients:
1 cup (4.5oz, 135gr) flour
1 cup (8oz, 240ml) milk
2 eggs
1/4 tsp salt
3 tbs shredded cheese, Cheddar, Gruyère, Parmesan
butter - for pan
 Instructions:
Butter muffin pan - even if it is nonstick, it's easier. 
Lightly beat eggs with fork or hand whisk. 
Add flour, milk, salt and whisk lightly - do not try to get out all of the lumps - doing this would cause over beating and tough popovers. 
Ladle half the batter into muffin pan. 
Divide the cheese evenly and sprinkle over batter. 
Ladle the rest of the batter on top.  Cups should be 1/2 - 2/3 full. 
Put into preheated 450F (230C) oven for 25 minutes. 
Turn temperature down to 350F (175C) and continue baking 15 minutes longer, until nicely browned. 

Remove and serve

.
Cooking Schedule: 90 minutes
Assemble all ingredients and utensils
Utensils: measuring cups, spoons, knives,
medium pot for soup (4qt or L), medium bowl,
whisk, muffin pan, ladle
Cut ham if using slices
Put peas, ham, water in pot, bring to a boil
Cover, reduce heat, simmer
     45 minute break
Turn oven on, 450F (225C)
Chop onion, add to soup
Butter muffin pan if needed
Whisk eggs
Add milk, flour, nutmeg, salt, whisk lightly

Ladle half the batter into muffin cups
Add cheese, remaining batter
Bake popovers
Peel, slice carrot, add to soup
Cut potato, add to soup
Slice celery, add to soup, cover, simmer
      10 minute break
Turn oven down, 350F (180C)
Stir soup
     15 minute break
Stir soup
Remove popovers
Serve soup and popovers....
Don't forget the butter