Mushroom Burgers
Grilled Potatoes
Green Beans with Parmesan
Cooking time: 35 minutes for menu        Cooking schedule: see below for instructions
     We have to have one or two more burgers this season...
Mushroom Burgers
Total time: 20 minutes
    Flavorful burgers, filled with chopped mushrooms, are served with sautéed mushrooms and onions.  We normally eat burgers with a fork and a glass of red.  Feel free to have them on a bun with a Mountain Dew. 
 Ingredients:
12oz ground beef (360gr mince)
4oz (120gr) mushrooms, divided
1 onion
4 tsp Worcestershire sauce, divided
1/2 tsp garlic powder
1 tsp paprika, divided
2 tsp olive oil
 Instructions
For the burgers: 
Finely chop 1oz (30gr) trimmed mushrooms.
Combine mushrooms, 2 tsp Worcestershire sauce, garlic powder, 1/2 tsp paprika and beef.  Mix well. Form into 3 or 4 patties. 
Cook on barbecue grill over direct heat for 3 - 5 minutes per side, using a basket, grill pad or pan if you have one, it's easier. 
Or sauté in a nonstick skillet for the same amount of time.  
For the mushrooms:
Trim and thickly slice mushrooms. 
Thickly slice onion. 
Heat 2 tsp oil, 2 tsp Worcestershire sauce and 1/2 tsp paprika in a medium nonstick skillet over medium heat.  Add mushrooms, onions and sauté until nicely glazed, stirring and turning frequently, about 10 minutes.
To finish: 
Spoon sautéed mushrooms and onions over burgers and serve - on a bun or not.
Grilled Potatoes   
Total time: 35 minutes
     Simple, grilled or roasted potatoes are perfect with equally simple, grilled meats.  Vary the herbs, Worcestershire, etc. according to the rest of the meal.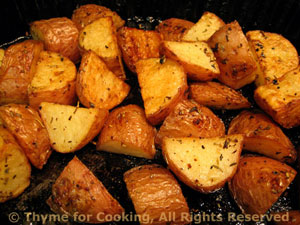 Ingredients:
2 medium potatoes
1 tbs olive oil
2 tsp Worcestershire sauce
1 tsp paprika
1 tsp rosemary
salt and pepper
 Instructions:
Slice potatoes in half the long way, then in half again.   Then slice in half or thirds the short way. 
Put remaining ingredients into large bowl and mix well. 
Add potatoes and stir, coating thoroughly.
Put them into an old metal pie plate or cake tin or foil barbecue container (or whatever) that you will never use for any purpose but the barbecue again...  and you should have one of these.  Cook on barbecue (grill) for 25 - 30 minutes or until done... and you will need to stir them with a long-handled wooden spoon occasionally as they tend to develop 'hot spots' and can get a little crispy.

Or

you can roast them in the oven.  Arrange potatoes on baking sheet with rim (I use my trusty, round pizza pan) Bake at 400F for 30 minutes.
Green Beans with Parmesan 
Total time: 25 minutes
   A simple treatment letting the full flavor of the green beans shine through.  Use either regular green beans or the flat Italian Romano beans.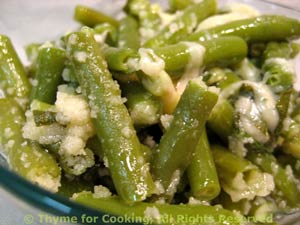 Ingredients:
6oz (180gr) green beans
1/4 cup (2oz, 60ml) chicken stock
1 tbs butter
2 tbs Parmesan
 Instructions:
Top and tail beans.  Cut into 1 1/2" (4cm) lengths or leave long if small - nicer presentation. 
Put in small skillet with stock, put on medium heat and bring to a boil. 
Turn heat to low, cover and simmer until done - about 10 minutes. 
Drain beans and put into a serving bowl. 
Melt butter in the same pan. 
Return beans to pan and toss to coat with butter. 
Put back into serving bowl, sprinkle with Parmesan, stir gently and serve.
Cooking schedule: 35 minutes
Assemble all food, utensils and serving dishes
Utensils: measuring cups, spoons, knives,
small bowl, (used 2X), medium bowl, barbecue grill
and grill pan or basket
Light/turn on barbecue grill 
Cut potatoes
Mix oil, Worcestershire, paprika, rosemary
Add potatoes, stir well to coat
Put in grill pan, cook
Trim mushrooms
Finely chop 1oz (30gr) mushrooms
Make burgers, patty, set aside
Slice remaining mushrooms
Slice onion
Top and tail beans, cut

Grate Parmesan
Stir potatoes
     Pause while potatoes cook
Cook beans
Heat oil, Worcestershire, paprika
Add onions, mushrooms, sauté
Cook burgers
Drain beans
Melt butter
Add beans to butter, stir
Turn burgers
Mind mushrooms
Finish beans
Remove potatoes
Remove burgers
Serve