Tournedos with Creamy Brown Sauce
Roasted New Potatoes
Butter Braised Carrots with Mushrooms
Cooking time: 35 minutes for menu      Cooking schedule: see below for instructions
     This is a spring dinner, with spring flavors, but still cooked in the kitchen rather than on the barbecue grill.
Tournedos with Creamy Brown Sauce
Total time: 20 minutes
    This is based on a main course from years ago, at one of my favorite restaurants in Minneapolis.  They didn't give me the recipe.... The steaks are sliced thinly, for tenderloin, and cooked quickly to stay medium-rare.  Serve on a bed of mashed potatoes.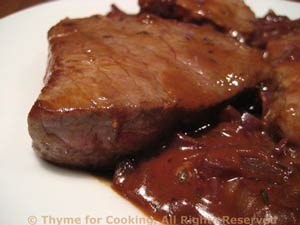 Ingredients:
4 slices beef tenderloin, each 1 inch thick (2.5 cm),  12oz (360gr) total weight
4 tsp olive oil
2 shallots
2 cloves garlic
1 tsp dried thyme
1/2 cup (4oz, 120ml) red wine
1/2 cup (4oz, 120ml) beef stock
1 tbs tomato paste
1 tbs Dijon-style mustard
1 tsp cornstarch
1/4 cup (4oz, 120ml) milk or cream
 Instructions:
The sauce:

  Thinly slice shallots and mince garlic. 
Heat 2 tsp oil in a nonstick skillet over medium heat. Add shallots, garlic and thyme and sauté 1 - 2 minutes. 
Add red wine and simmer until reduced by half. 
Add beef stock and simmer until reduced by half. 
Add tomato paste, mustard and mix well. 
Dissolve cornstarch in milk or cream and add to sauce, stirring until thick.
Spoon into a bowl and set aside.  
Rinse out the skillet for the steaks.

The steaks:

Heat remaining 2 tsp oil in the skillet over medium-high heat.
Add steaks and sauté 1 minute per side. 
Spoon the sauce over the steaks, cover and simmer 1 - 3 minutes longer, depending on how you like them done.

To serve: 

Put 2 steaks on each plate and spoon a little sauce over top. 
Put the rest of the sauce in a sauce boat and serve on the side.
Roasted New Potatoes
Total time: 35 minutes  
  New potatoes are very thin-skinned, immature potatoes.  They have a short shelf life, usually only a few days before they start turning green and need to be added to the compost pile.  You probably can only get them at the farmer's markets - but try, if you can.  They're worth it.  If not, substitute the small 'creamer' potatoes.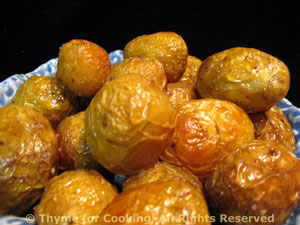 Ingredients:
12 - 18 new potatoes, depending on size  

enough for two people

1 tbs olive oil
salt and pepper
 Instructions:
Leave potatoes whole and unpeeled.  Just wash lightly. 
Toss with oil, lightly salt and put into a baking dish large enough for them to be in a single layer. 
Bake at 400F for 30 minutes.  
Stir half way through baking time. 
Remove from oil, put into a small dish and serve.

 
Butter Braised Carrots with Mushrooms
Total time: 20 minutes
     Carrots and mushrooms, sliced, lightly browned then braised to finish.  A bit of oil is added to keep the butter from browning.
 Ingredients:
3 medium carrots
2oz (60gr) mushrooms
2 tbs butter
1 tsp olive oil
1/2 tsp dried thyme
 Instructions:
Slice the carrots into thin rounds.
Trim and slice mushrooms. 
Heat butter and oil in a small skillet over medium-high heat.
Add the carrots, mushrooms and stir-fry until lightly browned, about 5 minutes.
Reduce heat to low, cover and cook 10 minutes longer. 
Stir in thyme and serve.
Cooking Schedule: 35 minutes for menu
Assemble all food, utensils and serving dishes
Utensils: measuring cups, spoons, knives,
large skillet with lid, small skillet with lid, medium
bowl, baking dish
Turn oven on, 400F (200C)
Wash potatoes, toss with oil, place in baking dish
Roast potatoes
Slice shallots
Mince garlic
Sauté shallots, garlic, thyme for steak
Slice carrots, mushrooms
Add red wine to skillet for steak, reduce

Stir-fry carrots, mushrooms
Add beef stock to red wine, reduce
Stir potatoes
Reduce heat under carrots, cover, cook
Dissolve cornstarch in milk, finish sauce for steak
Put sauce in bowl, wipe out skillet
Heat oil in skillet for steaks
Fry steaks
Turn steaks
Add sauce, cover, heat
Remove potatoes
Put steaks on platter or plates, spoon sauce over
Serve all