Barbecued Chicken Breasts
Pasta with Wild Mushroom Sauce
Roasted Butternut Squash
Cooking time: 30 minutes for menu        Cooking schedule: see below for instructions
     It's time to start clearing the pantry of summer cooking supplies.  If you have bottled barbecue sauce on hand use it for these chicken breasts.  If not there's a 'quick' one to make.  We'll be starting to add winter pantry items now, also, like the tomato paste that comes in a tube - for the Tbs needed in the mushroom sauce.
Barbecued Chicken Breasts
Total time: 30 minutes
   A quick, savory marinade and a spicy barbecue sauce to finish makes these chicken breasts perfect for a quick summer dinner. Save a bit of barbecue sauce to pour over just before serving.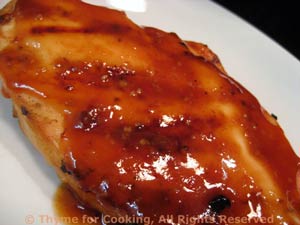 Ingredients:
2 chicken breasts, boneless, skinless
1 tbs Worcestershire sauce
1 tbs red wine vinegar
2 tbs olive oil
1/3 tsp garlic powder
1/2 tsp chili powder
Barbecue Sauce:
1/3 cup ketchup
1 tbs cider vinegar
1 tbs molasses or brown sugar
1 tbs Dijon-style mustard
2 tsp Worcestershire sauce
1/2 tsp chili powder
1 tsp garlic powder
 Instructions:
In small bowl whisk together Worcestershire, vinegar, oil, garlic and chili powder. 
Put chicken breasts in a glass baking dish and pour marinade over.  Let marinate for 10 - 15 minutes. 
Cook on barbecue grill for 7 - 9 minutes a side or until done (test - take a peak), basting with barbecue sauce. 

OR

sauté in nonstick skillet for 8 - 10 minutes a side until nicely browned and done. 
Serve with remaining barbecue sauce on the side.
Barbecue sauce: 
Mix all ingredients in small sauce pan and heat, stirring, until well combined.
Keep half the sauce separate for finishing.
Pasta with Wild Mushroom Sauce
Total time: 25 minutes
     A simple sauce, but using fresh, autumnal wild mushrooms elevates this to something for the most discriminating gourmet.  It's also good with regular button or cremini mushrooms.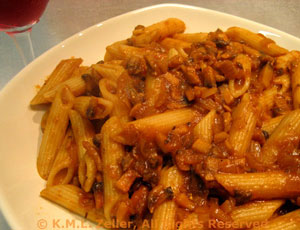 Ingredients:
1 cup (3.3oz, 95gr) uncooked pasta -

fusilli, penne

1 tbs olive oil
4oz (120gr) wild mushrooms,   1 - 1 1/2 cups finely chopped
1/2 large onion
2 garlic cloves, minced
1 tsp paprika
1/3 cup (3oz, 90ml) beef stock
1 tbs tomato paste
 Instructions:
Cook pasta according to package instructions.  Drain.
Finely chop onion, garlic and mushrooms. 
Heat oil in nonstick skillet over medium heat. 
Add paprika and sauté briefly. 
Add onion and sauté until tender, about 7 minutes. 
Add garlic, mushrooms and sauté until everything is well-cooked, another 7 - 8 minutes. 
Add stock and tomato paste, stir well. 
Simmer, uncovered until sauce is thickened. 
Add drained pasta, toss well and serve.
Roasted Butternut Squash with White Balsamic Vinegar
Total time: 30 minutes
    The white Balsamic vinegar emphasizes the sweetness of the squash and along with the rosemary, gives a lovely depth of flavor.
 Ingredients:
10oz (300gr) butternut squash, 

about 2 cups

1 tbs olive oil
2 tsp white Balsamic vinegar
1 tsp rosemary
 Instructions:
Cut part of the squash into large bite-size chunks (1 X .5 X .5",  2.5 X 1 X 1 cm).  
Mix oil, vinegar and rosemary in a bowl. 
Add squash and toss well to coat. 
Spread squash on baking sheet and bake for 30 minutes, 400F (200C). 
Stir/flip once, after 15 minutes.
Note:  To clean butternut squash first peel it, using a potato/vegetable peeler.  If it's large (typically) cut it in half between the 'neck' and 'bowl' ends.  Then cut those in half the 'long' way.  Scoop the seeds out of the round end and discard.  I use the neck end for uniform pieces and the bowl end for soups and smaller pieces.
Cooking schedule: 30 minutes
Assemble all food, utensils and serving dishes
Utensils: measuring cups, spoons, knives,
small bowl, medium bowl, small saucepan, medium
skillet, pasta pot, colander, dish for marinating, barbecue grill or large skillet, baking sheet
Turn on oven, 400F (200C)
Turn on/light barbecue grill if using
Put water on high heat for pasta
Peel, clean squash if not done earlier
Mix vinegar, oil, herbs
Cut 10oz (300gr) of squash into chunks
Add squash to oil mix, toss
Spread squash on baking sheet, roast
Mix marinade, pour over chicken
Finely chop onions

Sauté paprika
Add onions, sauté
Finely chop garlic
Clean mushrooms, finely chop
Make barbecue sauce
Start to cook pasta
Add mushroom, garlic to onions
Start to cook chicken, baste
Stir / turn the squash
     Tidy up the kitchen
Add stock, tomato paste to mushrooms
Baste, turn the chicken, baste again
Drain the pasta, add to sauce
Remove squash
Remove chicken, slice or not, finish with sauce
Serve