Grilled Pork Chops Teriyaki
Barley Pilaf
Oriental Zucchini (Courgette)
Cooking time:  35 minutes for menu          Cooking schedule: see below for instructions
        I try to incorporate a variety of grains into our diet. Quick-cooking barley is easy, healthy and hearty.  The grains stay separate, and somewhat dry, making it great for pilafs.  If you don't have any Teriyaki marinade you can use a 1:1 soy sauce / orange marmalade or juice mix.
Grilled Teriyaki Pork Chops  
Total time: 25 minutes
                Sometimes we just have to be easy... And it's not easy to duplicate a bottled Teriyaki sauce!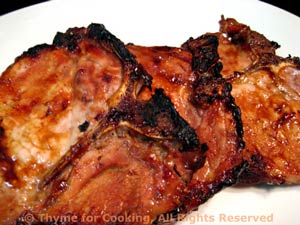 Ingredients:
2 - 4 pork chops, depending on size  12oz (360gr) boneless, 16oz (480gr) bone-in
4 - 5 tbs Teriyaki marinade
 Instructions:
Pour marinade over chops. and let marinate for 10 minutes. 
Remove from marinade and cook on barbecue 10 - 15 minutes turning once or under broiler for 12 - 15 minutes turning once - or sauté in large skillet 10 - 15 minutes (you get the picture). 
Baste with any remaining marinade. 
In all cases it depends on thickness and test for doneness by slicing and peaking.   Remove and serve.
Barley Pilaf
Total time: 25 minutes
   Barley is a hearty, nutritious grain; easy to cook and flavorful.  I get the quick-cooking barley which takes 15 minutes.  Here it's cooked in chicken stock with sautéed carrots and onion; a pretty, flavorful side dish.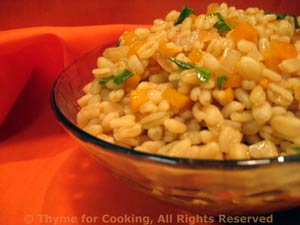 Ingredients:
1/2 cup (2.8oz, 80gr) quick-cooking barley
1 cup (8oz, 240ml) chicken stock (or more, depending on type of barley)
1 small - medium carrot
1/2 onion
1 tbs soy sauce
1 tbs dry sherry
1 tsp dried basil
1 tsp olive oil
 Instructions:
C

hop

onion and carrot.

Heat oil in a small saucepan.  Add onion, carrot and sauté until they start to get tender, about 5 minutes.
Add barley, stock, soy sauce, basil and sherry; stir to combine.
Cover and simmer until barley is done, about 15 minutes or according to package directions. 
Serve.
Oriental Zucchini (Courgette)   
Total time: 25 minutes
   Thinly slice the zucchini using a box slicer, mandolin, or food processor.  Sauté quickly, until just starting to get soft but stop while they still retain their shape.  Finish with toasted sesame seeds.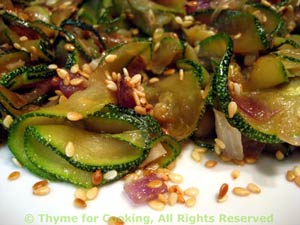 Ingredients:  
1 medium zucchini (courgette) - about 2 cups thinly sliced
1 small red onion or 1/2 large
2 cloves garlic
1 tsp sesame or walnut oil
1 tbs olive oil
1 tbs soy sauce
1 tbs ginger, minced
1 tbs sesame seeds
 Instructions:
Slice onion. 
Mince garlic, ginger. 
Thinly slice zucchini. 
Heat oils in medium, nonstick skillet over medium-high heat.  Add onion, and sauté until tender. 
Add garlic, ginger and soy sauce and sauté briefly. 
Turn heat to medium, add courgette and continue to sauté for about 7 - 10 minutes, stirring occasionally with a wooden spoon, until zucchini is tender. 
Remove, top with toasted sesame seeds and serve.
Note:  To toast sesame seeds put into a bare, nonstick skillet over medium heat and brown, tossing/stirring frequently.  It takes 8 - 15 minutes depending on heat and size of pan. 
Cooking Schedule: 35 minutes
Assemble all food, utensils and serving dishes
Utensils: measuring cups, spoons, knives,
large skillet, small saucepan with lid, skillet for
toasting sesame seeds if needed, dish for
marinating, barbecue grill or large skillet
Light/turn on barbecue grill if using
Pour marinade over pork chops
Toast sesame seeds, if needed
Slice 1/2 onion, chop 1/2 onion
Mince garlic, ginger
Slice zucchini
Chop carrot

Sauté chopped onion, carrot for barley
Add barley, stock, soy, sherry to pan, cover, simmer
Sauté onion for zucchini
Start to cook pork chops
Add garlic, ginger, soy to onions
Add zucchini to skillet
Turn chops
Snip basil
Stir zucchini
Mind the barley, finish when done
Remove chops
Finish zucchini
Serve