Mini Meat Loaves
Baked Sweet Potatoes
Baked Tomatoes
Cooking time:  60 minutes for menu       Cooking schedule: see below for instructions
            Making mini meat loaves cuts the baking time in half and gives you another dinner that can be eaten later in the week (as we will) or be frozen, either before or after baking.  Depending on appetites, you may have enough left for a meat loaf sandwich or 2, as well. Dried onion flakes are new to the pantry for winter.
Mini Meat Loaves
Total time: 45 minutes
      Great meat loaf taste in a small package.  You can cut this recipe in half (except for the egg) or make it in one large loaf (bake for 60 minutes).  You can also make them ahead and freeze. To bake from freezer,  unwrap and bake for 45 - 55 minutes.  You could use ground turkey or any combination of beef, pork, turkey or chicken.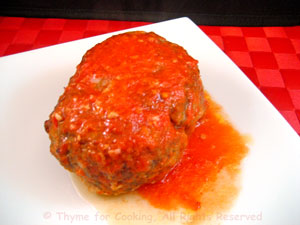 Ingredients:
16oz (480gr) ground beef (mince)
1 egg
1/2 cup bread crumbs
1/3 cup milk
1/4 cup ketchup
1 tbs Worcestershire sauce
1 tbs Dijon-style mustard
1 tsp dried oregano
1 tsp dried basil
1/2 tsp garlic powder
2 tbs dried onion flakes
8oz (250ml) tomato sauce
 Instructions: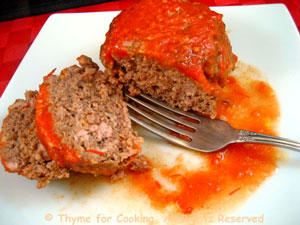 In large bowl lightly beat egg. 
Add all of the rest of the ingredients except beef and tomato sauce and mix well. 
Add beef and mix well - best to use your hand, kneading it like bread dough. 
Shape into 4 loaves and put into a large 9 X 13 baking pan, spacing evenly. 
Bake at 400F (200C) for 20 minutes. 
Remove and pour tomato sauce evenly over all 4 loaves. 
Bake 15 minutes longer or until done. 
Remove.  Slice and serve 2; save 2.
Baked Sweet Potatoes
Total time: 60 minutes  10 - 15 in the microwave
     These will, obviously, cook much faster in the microwave and I have seen in the U.S. that you can buy them micro-wave ready ....whatever that means.  Sweet potatoes are incredibly good for us, easy and delicious! You can start in the micro for 8 minutes, then finish in the oven for 20 - 30 longer.  Faster but still with a crisp skin.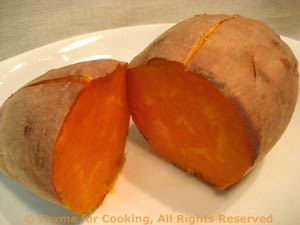 Ingredients:
2 sweet potatoes
Butter, salt & pepper
 Instructions:
Scrub potatoes. 
With a sharp knife cut a shallow slit down the length of each potato. 
Place on foil in the oven with slit side up.  The foil is necessary unless you want to clean your oven - as the potatoes get close to being done the sugars start to ooze out - the slit stops them from bursting.
Bake at 400F (200C) for 60 minutes or until done - tender when pierced with a knife.  
Serve with lots of butter, salt and pepper - eating the skins or not, as you choose.
Baked Tomatoes
Total time: 25 minutes
    In England they serve plain baked tomatoes for breakfast.  We like them, stuffed, as a first course.  They also make a lovely, vegetable side dish, especially now, as we move into fall.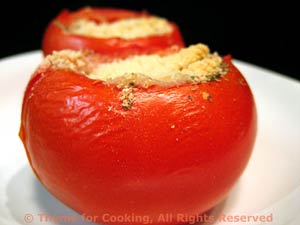 Ingredients:
2 large tomatoes, suitable for stuffing
1 tsp herbes de Provence
2 tbs grated Parmesan
2 tbs dried bread crumbs
 Instructions:
Slice the tops off of the tomatoes and scoop out the pulp and seeds leaving a hollow shell. 
In a small bowl mix herbs, cheese and bread crumbs. 
Spoon mixture into tomatoes. 
Put into a small, shallow baking pan and bake at 400F for 15 - 20 minutes, until tomatoes are hot and juicy. 
Remove and serve.
Cooking Schedule: 60 minutes
Assemble all ingredients and utensils
Utensils: measuring cups, spoons, knives,
foil, large bowl, large baking dish, small baking dish,
small bowl
Turn on oven 400F (200C) arrange 2 shelves
Prepare sweet potatoes
Put foil in oven, sweet potatoes on top of foil, bake
Mix all ingredients for meat loaf (not beef, sauce)
Add ground meat, mix well
Divide mixture into 4ths, make loaves, put in dish
Bake meat loaves
    15 minute break whilst stuff bakes

Back?
Hollow tomatoes
Grate Parmesan
Mix Parmesan, herbs, crumbs
Spoon mixture into tomatoes, bake
Remove meat loaves, top with sauce, return to oven
      Another 15 minute break while stuff bakes
Remove meat loaves, let rest 5 minutes
Stick a knife in the potatoes to test
  (If not, 10 minutes more in oven or 2 in micro)
Remove tomatoes
Slice 2 meat loaves (refrigerate other 2 when cool)
Serve all, eat