Stir-Fried Sesame Chicken
Basmati Rice
Cooking time:  30 minutes for menu          Cooking schedule: see below for instructions
       A quick stir-fry to end the week and clean out the fridge.  If you have any bits of broccoli or mushrooms, add those as well.  Even if you don't regularly eat peanut butter, it's a good pantry staple, as we use it through-out the year.
Stir-fried Sesame Chicken
Total time: 30 minutes
    Peanut butter adds a creaminess to stir fries, as well as a subtle, almost sesame flavor.  The finish of toasted sesame seeds carries the flavor through.  You can buy toasted sesame seeds or toast them yourself in minutes.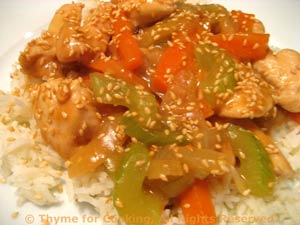 Ingredients:
2 chicken breasts
2 ribs celery
2 carrots
1 onion
2 cloves garlic
2 tsp minced, fresh ginger
2 tsp olive oil
1 tsp sesame oil
1 tbs soy sauce
1 cup (8oz, 240ml) chicken stock
1 tbs cornstarch (corn flour, maizena)
2 tbs sherry
2 tbs peanut butter
2 tbs sesame seeds, toasted
Basmati rice:
1/2 cup (3.3oz, 95gr) Basmati rice
1 tsp butter
1 cup (8oz, 240ml) chicken stock
 Instructions:
Toast sesame seeds in a dry, nonstick skillet, over medium-high heat, 3 - 6 minutes.
Start flipping them or shaking the skillet after 1 - 2 minutes and remove as soon as light brown.  Set aside. 
Slice celery at an angle. 
Cut carrots into matchsticks. 
Cut onion into quarters, lengthwise, then slice thinly. 
Mince garlic and ginger.
Cut chicken into bite-size pieces.
Heat oils in large skillet. Add onion and sauté 3 minutes. 
Add garlic, ginger, celery, carrot and sauté 5 minutes longer. 
Remove to a plate. 
Add chicken to skillet and sauté 5 minutes. 
Return vegetables to skillet. 
Add soy sauce, stock, cover and simmer, 5 minutes.
Basmati Rice:
Melt butter in small saucepan over medium heat. 
Add rice and sauté, stirring for 2 - 3 minutes.  Add stock, cover and simmer for 15 minutes, or until done.
When done fluff with fork..
To finish:
Dissolve cornstarch in sherry.
Increase heat under skillet.  Add peanut butter and stir until dissolved. 
Add cornstarch and stir until thickened.  
Add half of the toasted sesame seeds, stir. 
Spoon over rice, sprinkle with the remaining sesame seeds and serve.
Cooking schedule: 30 minutes
Assemble all ingredients and utensils
Utensils: measuring cups, spoons, knives,
large skillet with lid, small saucepan with lid
Thinly slice onion
Mince garlic
Slice celery, cut carrots
Cut chicken
Start to cook rice
Toast sesame seeds
Remove sesame seeds, set aside
Heat oils in skillet

Add onion, stir-fry
Add garlic, ginger, celery, carrot; stir-fry
Remove vegetables, add chicken; stir-fry
Return vegetables, add soy, stock, cover, simmer
  pause while stuff cooks
Check rice, turn off if done
Dissolve cornstarch in stock
Add peanut butter to skillet, stir
Add cornstarch, stir and thicken
Arrange rice on platter
Spoon sesame chicken on rice
Top with sesame seeds, Serve...