Grilled Chicken Aioli
Sesame Basmati Rice
Spinach Salad
Cooking time:  30 minutes for menu           Cooking schedule: see below for instructions
      Garlicky Chicken Aioli, with just the hint of the Orient, pairs well with Sesame Basmati. A simple salad of Spinach and Almonds rounds out this summer dinner.   If you have Creamy Herb Dressing left, use that rather than making the Vinaigrette.
Grilled Chicken Aioli
Total time: 30 minutes
  The marinade is quite thick and adds lots of flavor to the chicken.  It also protects it from drying out on the grill. It makes a nice presentation to slice the breasts, thinly, at an angle to serve.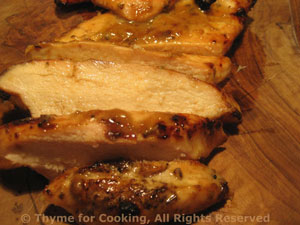 Ingredients:
2 chicken breasts, boneless, skinless
Marinade:
3 tbs soy sauce
3 tbs mayonnaise
3 tbs olive oil
1 tsp garlic powder - or 2 cloves minced
1 tsp dried oregano
 Instructions:
In small bowl whisk together the ingredients for the marinade - whisk well: it should emulsify (come together thickly).
Spoon over chicken breasts and let marinate for 10 - 15 minutes - or longer, up to 45 minutes. 
Remove from marinade and cook on barbecue grill for 8 - 12 minutes per side or until done (test - take a peak). 

OR

sauté in nonstick skillet for 8 - 10 minutes a side, until done. 
Serve, sliced or not.
Sesame Basmati Rice
Total time: 20 minutes 
   Something as easy as a bit of soy sauce, some sherry and a sprinkling of sesame seeds can elevate simple Basmati rice to a gourmet level.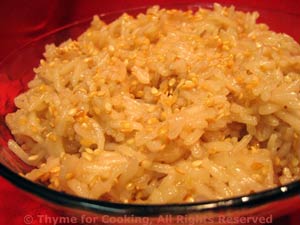 Ingredients:
1/2 cup (3.3oz, 95gr) Basmati rice
1 tsp sesame oil
1 tsp butter
1 cup (8oz, 240ml) chicken stock
1 tsp soy sauce
1 tbs dry sherry

1 tbs sesame seeds

  

toasted is nice
 Instructions:
Melt butter in small saucepan with sesame oil over medium heat. 
Add rice and sauté, stirring for 1 - 2 minutes. 
Add stock, soy sauce and sherry. 
Cook rice for length of time on package. 
When done fluff with a fork, add sesame seeds, fluff some more and serve.
To toast sesame seeds:  Put them into a dry, nonstick skillet over medium heat.  Toss or stir them about in the pan until lightly golden, about 5 minutes.
Spinach Salad
Total time: 15 minutes 
   A heart-healthy salad, that's also good for the eyes (spinach: lutein) and the bones (spinach, almonds and cheese: calcium).  Plus it's delicious!  What more can we ask for?
 Ingredients:
4oz (120gr) fresh spinach
1oz (30gr) slivered almonds
3 tbs shredded cheese
1/8 tsp salt - sea salt if you have it
Vinaigrette:
2 tsp lemon juice
2 tsp Dijon mustard
1/4 tsp garlic powder
3 tbs salad olive oil
 Instructions
Wash spinach if necessary, tear and put into a salad bowl. 
Add almonds, salt to spinach and toss to combine. 
Add half of the vinaigrette and toss to coat. 
Taste and add more as needed. 
Sprinkle with cheese. 
Serve, remaining vinaigrette on the side.
Vinaigrette:
Put all remaining ingredients except olive oil in small bowl and whisk to combine. 
Slowly drizzle in olive oil, whisking constantly.   This will keep about a week and can be used as a base for other vinaigrettes.
Cooking schedule: 30 minutes
Assemble all food, utensils and serving dishes
Utensils: measuring cups, spoons, knives,
small bowl (used 2 X), whisk, dish for marinating,
salad spinner, salad bowl, small saucepan with lid,
tongs, barbecue grill, skillet for sesame seeds
Turn on/light barbecue grill if using
Mix marinade
Put chicken in dish, spoon marinade over, set aside
Sauté rice

Add stock, soy sauce, sherry to rice, cover. cook
Prepare spinach
Start to cook chicken
Toast sesame seeds if needed
    Pause while stuff cooks
Turn chicken
Make vinaigrette if needed (or use Creamy Herb)
Make salad
Fluff rice, add sesame seeds
Remove chicken, slice, serve