Barbecued Pork Chops
Grilled Potatoes with White Balsamic Glaze
Tangy Coleslaw
Cooking time: 30 minutes for menu      Cooking schedule: see below for instructions
      Classic summer cooking: Barbecued Pork Chops, Grilled Potato Salad and Coleslaw.  Both the chops and the potatoes can be down in the kitchen as well.  The coleslaw will be good for several days.
Barbecued Pork Chops
Total time: 30 minutes
  Perfectly simple: a quick marinade to add flavor and moisture followed by a quick cooking on the grill.  I used rather thin, boneless chops.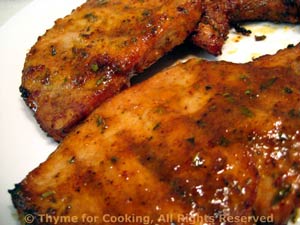 Ingredients:
2 - 4 pork chops - depending on size, 12oz (360gr) total if boneless
Marinade:
2 tbs red wine vinegar
1 tbs ketchup
2 tsp soy sauce
1 tsp dried marjoram
1/2 tsp garlic powder
3 tbs olive oil
 Instructions:
Mix all ingredients for marinade and pour over chops. 
Let marinate for 15 - 20 minutes. 
Cook on barbecue for 5 - 8 minutes per side or until done.  Should be slightly pink in the middle, or near the bone if bone-in, when done - take a peak (techniques). 

Or

fry in nonstick skillet over medium-high heat the same amount of time.  Serve.
Note:  If you cook it too long pork tends to be dry - unless you cook it really, really long - but that's winter cooking ... this is summer.
Grilled Potatoes with White Balsamic Glaze
Total time: 35 minutes
   A reduction of white Balsamic vinegar, sweetened with a bit of sugar, give these the hint of potato salad, but keeps the crispness from roasting.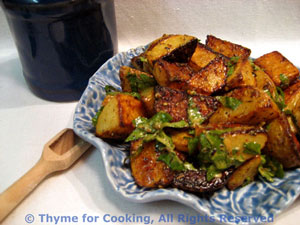 Ingredients:
 Instructions:
Slice potatoes in half the long way, then in half again. Then slice in half or thirds the short way. 
Put oil and paprika in a large bowl, add potatoes and toss, coating thoroughly. 
Put them into an old metal pie plate or cake tin or foil barbecue container (or whatever) that you will never use for any purpose but the barbecue again... and you should have one of these. 
Cook on barbecue (grill) for 20 - 30 minutes or until done... and you will need to stir them with a long-handled wooden spoon occasionally as they tend to develop 'hot spots' and can get a little crispy.   

Or

you can roast them in the oven.  Arrange potatoes on baking sheet with rim (I use my trusty, round pizza pan) Bake at 400F for 30 minutes.  
While the potatoes cook, heat vinegar and sugar in a small saucepan. 
Boil until reduced by half.  Keep warm. 
When potatoes are done put them into a serving dish, pour vinegar over, sprinkle with basil and serve.
Tangy Coleslaw (Cabbage Salad)
Total time: 15 minutes
  Another salad from my mother's collection.... But I'm pretty sure she got it from a local restaurant as the original recipe made 8 quarts!  I cut it down a bit, and made a change or two to make it easier for the home chef. This coleslaw was almost as famous as the Fish Fry!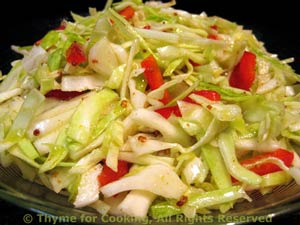 Ingredients:
3 cups shredded cabbage

about 1/2 of a small - medium head

1/2 red or orange pepper
Tangy Coleslaw Dressing:

8 tbs olive oil

8 tbs sugar

3 1/2 tbs cider vinegar

3/4 tsp whole grain mustard

1/4 tsp celery seed or powder

 

optional
  Instructions:
To shred cabbage

: cut a slice off of the head, lay the slice cut side down, cut into 4ths, then, cutting across, slice very finely: 1/16" - 1/8" (.3cm).  Do not use the core of the cabbage - you'll recognize it when you see it.  
Slice the pepper thinly, then cut the slices into 1/2" (1cm) pieces. 
Put cabbage and pepper into a large bowl. 
Add half of the dressing and toss well to combine. 
Add more dressing according to taste and the amount of cabbage.
Tangy Coleslaw Dressing:
Put all of the ingredients in a medium bowl.
Using as large a whisk as you have (and is reasonable), vigorously whisk ingredients together.  The sugar will dissolve and the dressing get very thick and clear.  
Note: Use food processor for slicing if you have one.  Slice thinly or shred coarsely.
Cooking schedule: 30 minutes
Assemble all food, utensils and serving dishes
Utensils: measuring cups, spoons, knives,
whisk, 2 small bowls, marinating dish, pan for
grill or baking sheet, barbecue grill or skillet, bowl
for salad, small saucepan
Light/turn on grill if using
Turn on oven, 400F (200C) if using
Cut potatoes
Mix paprika, oil, add potatoes, stir to coat
Cook potatoes - barbecue grill or oven
In small bowl mix marinade for chops
Put chops in dish, pour marinade over, set aside
Shred cabbage, put in bowl

Slice pepper, add to cabbage
Mix dressing, add to cabbage, toss to coat
Mind the potatoes
Heat white Balsamic vinegar, sugar
Start to cook chops
Snip basil for potatoes
Mind the vinegar reduction
Turn chops
Toss cabbage salad some more
Remove potatoes, put into serving dish
Pour vinegar over, stir
Add basil to potatoes, stir
Remove chops
Serve