Risotto with Asparagus, Veal and Peas
Fresh Fruit
Cooking time:  30 minutes for menu       Cooking schedule: see below for instructions
          You could use turkey or chicken rather than the veal in this dish.  This is our last risotto until late summer.  Use whatever asparagus is left.
Risotto with Asparagus, Veal and Peas
Total time: 30 minutes
   Spring risotto, with fresh asparagus, peas, and a bit of green garlic.  Enjoy the season!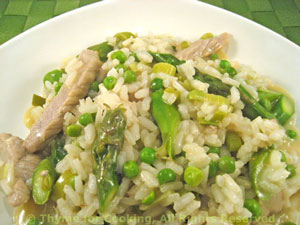 Ingredients:
 Instructions:
Fresh Strawberries
Whatever is left from the salad... maybe a little sugar and cream?
Cooking Schedule: 30 minutes for menu
Assemble all ingredients and utensils
Utensils: measuring cups, spoons, knives,
2 saucepans, medium skillet
Heat stock
Trim, slice green garlic
Sauté green garlic, rice
Add wine, stir, cook
Trim, cut asparagus
Remove peas from freezer
Add 1/3 cup stock, asparagus (not tips), stir, cook
Grate Parmesan
Stir rice

Add 1/3 cup stock, stir
Slice veal
Stir rice
Trim, cut strawberries, set aside
Add 1/3 cup stock, stir
Stir rice
Sauté veal
Continue adding stock, stirring
Add asparagus tips to risotto; peas to stock
Finish risotto
Add Parmesan, veal
Serve
Don't forget the strawberries