Braised Savory Pork Chops
Oven Fries, Spicy
Broccoli Cheese
Cooking time:  40 minutes for menu           Cooking schedule: see below for instructions
      I'm starting to think 'summer barbecue'... The ingredients in this savory pork chop dish are very similar to marinades I use for grilling. Well, it is getting closer... 
Braised Savory Pork Chops
Total time: 30 minutes
     There are a lot of intense flavors in the sauce for these chops; best served with simple side dishes.  The sauce is reduced at the end, to thicken slightly.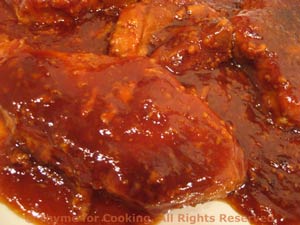 Ingredients:
2 - 4 pork chops, depending on size,  12oz (360gr) if boneless
2 tsp olive oil
2 cloves garlic
1/4 cup (2oz, 60ml) sherry
3 tbs soy sauce
3 tbs ketchup
3 tbs orange marmalade
1/2 tsp dry mustard
 Instructions:
Oven Fries, Spicy
Total time: 40 minutes 
   I have never owned a deep-fat fryer and likely never will.  I prefer the lower fat oven fries for 2 reasons:  They're healthier and you can spice them up a bit!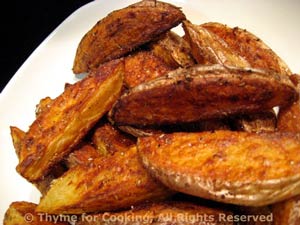 Ingredients:
2 medium potatoes
1 tbs olive oil
1 tsp chili powder
1/2 tsp garlic powder
1/4 tsp salt
2 tsp Worcestershire Sauce
 Instructions:
Broccoli Cheese
Total time: 30 minutes 
  This is based on the very popular British comfort food 'Cauliflower Cheese', but a bit lighter.  Like some other cruciferous vegetables (Brussels Sprouts) broccoli is best if not overcooked.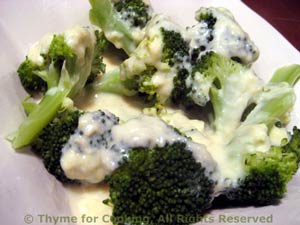 Ingredients:
 Instructions:
Cut broccoli into bite size florets and stems. 
Put in steamer basket in saucepan with an inch of water in bottom. 
Put on medium heat and steam for 10 minutes or just until barely tender.  Remove from pan and keep warm. 
In same pan, if not too large, or a small saucepan, melt butter. 
Add flour and cook, stirring with a whisk or fork. 
Slowly add milk, stirring constantly until you have a thick sauce. 
Stir in cheese and heat until just melted. 
Pour over broccoli and serve immediately.
Or arrange broccoli in an oven-proof casserole or serving dish. Pour cheese sauce evenly over top and place in a warm oven for 10 - 15 minutes. (250F, 125C). 
Cooking schedule: 40 minutes
Assemble all food, utensils and serving dishes
Utensils: measuring cups, spoons, knives,
medium skillet with lid, medium bowl, baking sheet,
saucepan with steamer basket and lid, small bowl
Turn oven on 400F (200C)
Cut potatoes
Combine oil, spices for potatoes, add potatoes, toss
Arrange potatoes on baking sheet, bake
Cook 1/2 cup rice in 1 cup stock for tomorrow
Heat oil in skillet
Add chops, brown
Mince garlic
Cut broccoli
Turn chops

Put sauce ingredients for chops in small bowl, mix well
Add garlic to chops, sauté
Add sauce to chops, reduce heat, cover, simmer
Turn potatoes if so inclined
Steam broccoli
     Pause while stuff cooks
Remove broccoli, keep warm
Remove chops, reduce sauce
Melt butter for sauce, add flour, whisk
Add milk to sauce, whisk
Add cheese to sauce, stir
Pour sauce over broccoli
Spoon sauce over chops
Remove potatoes, Serve
Refrigerate rice