Spicy Barbecued Burgers
Barley with Feta and Greek Olives
Sweet Sour Carrot Coins
Cooking time:  25 minutes for menu      Cooking schedule: see below for instructions
            Summer is Burger Season!  We normally don't bother with buns - unnecessary calories in plain white bread... Which we can't get here ;-))  I do try to make a variety of burgers over the season.  Substitute ground turkey if you like.
Spicy Barbecued Burgers
Total time: 20 minutes
        Slightly spicy burgers, topped with a ketchup based sauce.  Serve with or without buns, pickles and onions. They have enough flavor to stand alone.  If cooking on the barbecue grill, a grill basket or mat makes it easier.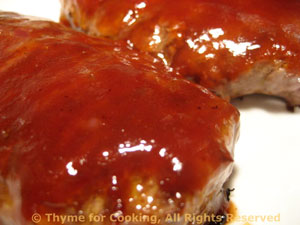 Ingredients:
12oz (360gr) ground beef
1 tsp chili powder
1 tsp garlic powder
4oz (120gr) chopped green chilies (or jalapeños' if you prefer)
2 tbs ketchup, divided
1 tbs Worcestershire sauce
 Instructions:
Put beef, chili powder, garlic powder, chilies and 1 tbs ketchup into a large bowl and mix well. 
Shape into 3 - 4 patties. 
Cook on barbecue grill for 4 - 8 minutes per side, or until done to your liking. 
Mix 1 tbs ketchup and Worcestershire sauce.  After you turn the burgers, baste with ketchup sauce.  Serve.

Or

sauté in a nonstick skillet for the same amount of time, depending on how you like them done.  
Barley with Feta, Greek Olives and Browned Shallots
Total time: 25 minutes
     Barley is a healthy alternative to rice.  With the feta, shallots and olives, this is a flavorful side dish.
 Ingredients:
1/2 cup (2.8oz, 80gr) quick-cooking barley
1 cup (8oz, 240ml) chicken broth
1/2 onion
2oz (60gr) feta cheese
1/4 cup Greek, dry-cured black olives
2 tsp olive oil
 Instructions:
Cook barley in stock until tender and stock is absorbed, about 15 minutes.
Slice onion. 
Heat oil in a medium skillet over medium heat.  Add onions and sauté until tender and starting to brown. 
Reduce heat and let brown slowly until barley is done. 
Cut feta into small cubes. 
Pit and chop olives. 
When barley is done, add shallots, feta and olives. 
Stir well to combine and serve.
Sweet Sour Carrot Coins
Total time: 20 minutes
     Sliced thinly and cooked in a sweet and sour glaze, these luscious carrots complement any meal.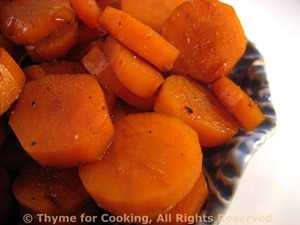 Ingredients:
2 large carrots
1/4 cup chicken stock
1 tsp Balsamic vinegar
1 tsp brown sugar
2 tsp butter
 Instructions:
Slice the carrots very thinly. 
In small skillet heat the stock, vinegar, sugar and butter. 
When simmering add the carrots, cover, reduce heat to low and simmer for 10 minutes. 
Uncover and cook off any remaining liquid. Serve.
Cooking schedule: 25 minutes
Assemble all food, utensils and serving dishes
Utensils: measuring cups, spoons, knives,
large bowl, small bowl, basting brush or spoon,
small saucepan, lid, medium skillet, small skillet,
lid, barbecue grill or skillet
Light/turn on barbecue grill if using
Cook barley
Slice onion, sauté
Slice carrots
Heat stock, vinegar, sugar, butter

Add carrots, cover, simmer
Mix ingredients for burgers
Add beef, mix, patty
Mix ketchup, Worcestershire
Cook burgers
Mind onions
Turn burgers, baste
Uncover carrots, cook off liquid
Pit, chop olives
Finish barley
Remove burgers, serve