Vichyssoise
Grilled Sirloin with Madeira Sauce
Polenta with Fresh Herbs
Butter Braised Green Beans
Cooking time:  30 minutes, plus 25 earlier          Cooking schedule: see below for instructions
        Another summer, warm weather classic: cold, creamy Vichyssoise.  It should be made earlier but only takes about 10 minutes of work and 15 of cooking.  Anytime, up to 2 days in advance is fine.  The steak can also benefit from a long marinating time so they can be done at the same time, making dinner time a snap.
Vichyssoise 
(Cold Potato and Leek Soup)
Total time: 25 minutes plus cooling and 5 minutes to finish
    Another classic French dish.  The addition of cream or milk to finish gives it a rich texture.  If you can stand the calories the cream really makes for a luscious soup....  I always use heavy cream if serving to guests.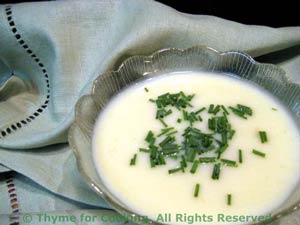 Ingredients:
2 medium leeks, (4oz, 120gr)  

about 1 cup roughly chopped

1 medium potato, (6oz, 180gr) 

about 1 cup roughly chopped

1 tbs butter
1 1/2 cups (12oz, 360ml) chicken stock
1/4 - 1/2 cup milk or cream
2 tbs snipped fresh chives
 Instructions:
Clean leeks - Slice off the top leaving about an inch of pale green, then slice off the stem end.  Slice the leek in half the long way.  Discard the outer layer (more if it is damaged).  Rinse the leek halves under running water, fanning the layers, to get out any remaining sand.  If there is a hard core in the center, pull it out and throw it away. 
Slice leeks thinly (the short way).  You want to slice about 3 inches (7.5cm) of each leek. 
Sauté leeks in butter in medium saucepan, until they are soft. 
Peel and chop potatoes. 
Add to leeks along with chicken stock.  You should have enough stock to just cover the potatoes.  If necessary add more stock or water, but do not use more than needed. 
Reduce heat, cover and simmer until potatoes are done, about 15 minutes. 
Remove from heat, and refrigerate until thoroughly chilled - or longer... 

To Serve:

Purée soup in blender. 
Add 1/4 to 1/2 cup of milk or cream, stirring, until you have desired consistency.
Serve, garnishing each bowl with freshly snipped chives.
Note:  You can set the hot soup pan in cold water (assuming it's a metal pan) to help cool the soup faster.
Grilled Sirloin with Madeira Sauce
Total time: 20 minutes      plus marinating time 
    This makes a great dinner party dish: Use a larger, cheaper cut of meat, about 1 1/2" (4cm)  thick, and marinate 8 - 12 hours.  The rest of the ingredients can be doubled (I actually 'halved' everything for this version for 2)  You can also make more and serve the leftovers with pasta.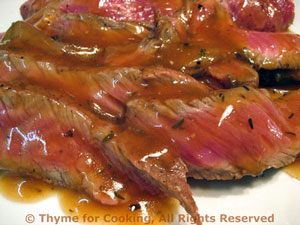 Ingredients:
1 steak, 1 - 1 1/2 inches thick (3 - 4cm), about 16oz (480gr)

Sirloin, tip steak, strip steak

Marinade:
1/3 cup (3oz, 90ml) red wine vinegar
1/4 cup (2oz, 60ml) ketchup
2 tbs olive oil
1/2 tsp salt
1/2 tsp dry mustard
1/2 tsp garlic powder
1/2 tsp dried thyme
1/2 tsp dried oregano
pinch dried cloves
Madeira Sauce:
1/4 cup of reserved marinade
1/2 cup (4oz, 120ml) beef stock
1/3 cup (3oz, 90ml) Madeira  

you could substitute cream sherry, port or red wine

1 tbs cornstarch (maizena) dissolved in 1 tbs water
 Instructions:
Polenta with Fresh Herbs
Preparation and cooking time:   15 minutes, assuming quick-cooking polenta
     This is a simple polenta dish, allowing the flavors of the fresh herbs to dominate.  Check the package directions for quantity proportions. It should be like soft mashed potatoes.
 Ingredients:
1 cup (8oz, 240ml) chicken stock
1/4 cup (1.5oz, 45gr) polenta, quick-cooking
1 tbs snipped fresh oregano
1 tbs snipped fresh chives
1 tbs snipped fresh basil
 Instructions:
Snip herbs. 
Heat stock in a small sauce pan over medium heat. 
When stock is simmering slowly pour in polenta, whisking constantly.  Cook, stirring constantly (seriously: constantly), about 5 minutes or until done. 
Stir in the fresh herbs.
Cover and let sit 5 minutes. 
Serve. 

Note:

If it gets too thick while resting you can thin with a bit of milk or more stock.
Butter Braised Green Beans
Total time: 20 minutes  
     This is the easiest and freshest way to serve just-picked green beans. The olive oil keeps the butter from burning and the beans give off enough liquid when covered to braise nicely without sticking.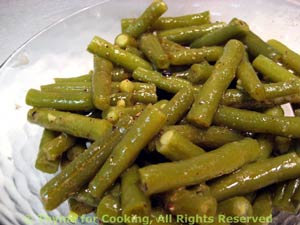 Ingredients:
6oz (180gr) green beans
1 1/2 tbs butter
1 tsp olive oil
 Instructions:
Top and tail beans... cut off the ends. 
Cut into 2 inch lengths (5cm) or leave whole. 
Put beans, butter, olive oil in a small skillet and sauté over medium heat for 5 minutes. 
Cover, reduce heat and braise until done, 5 - 10 minutes longer, depending on thickness of beans.
Cooking Schedule: 30 minutes, plus 25 earlier
Assemble all food, utensils and serving dishes
Utensils: measuring cups, spoons, knives,
scissors, whisk, small bowl, medium saucepan, lid,
2 small saucepans, medium skillet with lid, dish for
marinating, blender
Earlier in the day:
Clean, slice leeks
Sauté leeks in medium saucepan
Peel, chop potatoes
Add potatoes, chicken stock to leeks, cover, boil
Reduce heat, simmer until potatoes are tender
Make marinade for steak
Put steak in dish, add marinade, cover, refrigerate
Tidy up the kitchen
When potatoes are tender remove, refrigerate
Dinner Time:
Remove steak, allow to come to room temperature
Turn on/light barbecue grill

Snip/cut herbs
Top and tail beans, cut
Remove 1/4 marinade from dish with steak
Make Madeira sauce, cover, remove from heat
Purée soup
Add milk to soup, taste, adjust
Put chicken stock for polenta on low heat to warm
Serve soup, garnish with chives
Done?
Turn heat up under stock for polenta
Sauté beans
Start to cook steak
Add polenta to stock, whisk
Add herbs, cover, let rest
Turn steak
Cover beans, braise
Check steak, remove if done, let rest
Finish polenta, beans
Slice steak and serve all