Cheese Stuffed Burgers, Grilled
Potato Zucchini (Courgette) Cake
Cooking time:  30 minutes for menu          Cooking schedule: see below for instructions
       We haven't eaten enough burgers yet this summer either... These are simple, no fuss, with a bit of added flavor. We normally cook them in a grill basket, it just makes it easier. We'll use the other half of the red pepper next week (Friday).
Cheese Stuffed Burgers, Grilled  
Total time: 15 minutes 
   These can have a chunk of any cheese you like inside.  Try to use something a bit on the firm side so it will stay together and not run out.  I just get a small piece of aged goat cheese at the deli counter. Gouda, Muenster, Colby... any would be good! 
 Ingredients:
12oz ground beef (360gr mince)
3 slices 1/3" thick (1cm), semi-soft cheese - goat cheese, Munster, Port Salut

or any cheese
 Instructions:
Divide beef in half.

Shape one half into 3 patties. 
Put a slice of cheese on top of each patty. 
Divide remaining beef into thirds. 
Make each into a patty and place on top of cheese.  Work edges to seal. 
Oil hinged basket. (A paper towel works well.) 
Place patties in basket and cook on barbecue grill over direct heat for 4 - 5 minutes per side. 

Or

cook directly on barbecue grill. 

Or

sauté in nonstick skillet for same amount of time.  Remove and serve. 
Potato and Zucchini (Courgette) Cake
Total time: 25 minutes
   This was based on a Potato Leek Cake that I make during the winter.  I updated it for summer by adding red pepper and zucchini.  It was a bit heavy to 'flip' so you can either turn it, whole, using 2 plates or just turn it in large sections with a big spatula.  Either way, let it get nice and crispy first!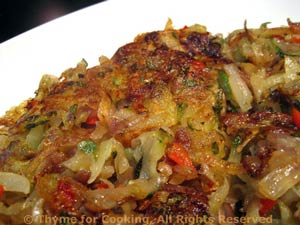 Ingredients:
2 medium potatoes, (10oz, 300gr total)
1 small - medium zucchini (8oz, 240gr)
1 onion (5oz, 150gr)
1/2 red pepper
1 tbs olive oil
salt and pepper to taste
 Instructions:
Cooking Schedule: 30 minutes
Assemble all food, utensils and serving dishes
Utensils: measuring cups, spoons, knives,
medium bowl (used 2X), large nonstick skillet,
barbecue grill and optional basket or grill pan or
skillet, grater or processor
Turn on barbecue grill
Chop onion, pepper
Wash, shred zucchini, potato
Heat oil in large nonstick skillet, medium high
Mix all vegetables together in medium bowl

Add vegetables to skillet, pat in place, reduce heat
Make burgers
Oil basket or pan if using
Add burgers, set aside
Check potato/zucchini, turn when ready
Start to cook burgers
     Pause while it all cooks
Turn burgers
Mind potato/zucchini cake
Remove burgers when done
Cut Potato Zucchini Cake