Barbecued Chicken Thighs
Potato Salad with Pimento Dressing
Old-Fashioned Cucumber Salad
Cooking time:  60 minutes for menu       Cooking schedule: see below for instructions
          We use the rest or the Pimiento Dressing from Friday for the potato salad.  You can add a bit more mayonnaise to the dressing if needed.  Both the potato salad and cucumber salad will be finished later in the week.
Barbecued Chicken Thighs
Total time: 35 minutes
   We didn't marinate the thighs but basted with barbecue sauce, like we would for proper Barbecued Chicken. Divide the sauce in half so you have some for dipping.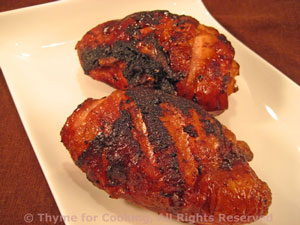 Ingredients:
4 chicken thighs
1 tsp olive oil
salt, pepper
Barbecue Sauce
1/4 cup ketchup
2 tbs red wine vinegar
1 tbs soy sauce
1 tsp cumin
1/2 tsp dry mustard
1/2 tsp paprika
1 tbs olive oil
 Instructions:
Sauce:

  In a small saucepan gently heat all ingredients for barbecue sauce, except oil. 
When warm, remove half of the sauce to a bowl. 
Add oil to the bowl to make the basting sauce.

Chicken:

Rub thighs with oil and sprinkle with salt and pepper. 
Cook thighs on barbecue grill for 25 minutes, turning once or twice. 
Start basting after 10 minutes and baste 2 - 3 times.  They'll be done when they are nicely browned and the juices run clear when pierced with a knife. 
Serve with remaining barbecue sauce on the side.
Potato Salad with Pimento Dressing
Total time: 25 minutes 
  Pimientos or pimentos are similar to roasted red peppers.  They are a heart-shaped red pepper that is a bit more flavorful and spicier than a red bell pepper. They are almost always found, roasted and peeled, in jars.  Use whole if you can, or strips.  Substitute roasted red peppers if you can't find the pimientos. You can use more for a stronger dressing.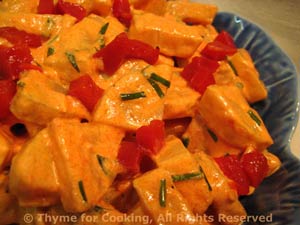 Ingredients: 
 Instructions:
Slice potatoes into small pieces, for salad. 
Cook in boiling, salted water, partially covered, until done, 12 - 15 minutes. 
When done, drain, toss a bit to cool, and put into serving dish.
 Add dressing and stir gently to coat.  Serve.
Pimiento Dressing: 

 if making

Snip/chop herbs. 
Drain pimento. 
Put pimento and yogurt into a blender and purée. 
Pour the yogurt mixture into a small bowl.  Add the mayonnaise, lemon juice, olive oil and herbs, stir to combine.
Old-Fashioned Cucumber Salad
Total time: 10 minutes plus 1 hour 
   This is my mother's recipe, as made by her mother.... Probably German in origin.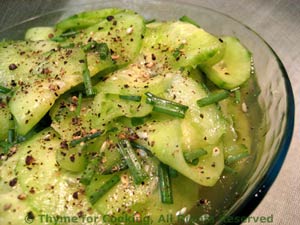 Ingredients:
2 - 3 cucumbers
1 tbs salt
2 tbs sugar
1/4 cup cider vinegar
1 tbs fresh chives, snipped
1/2 tsp pepper
 Instructions:
Peel cucumber and thinly slice, using a box slicer, food processor or mandolin. 
Put 1/3 of the cukes in a deep bowl, sprinkle 1/3 salt. 
Repeat twice. 
Place a small plate or bowl, that will rest directly on the cucumbers, on top. Add a weight of some sort to add pressure to the cukes, and let sit for an hour. 
Drain, rinse lightly and squeeze dry. 
Add remaining ingredients, mix well. 
Serve.  This gets better the next day.
Cooking Schedule: 60 minutes for menu
Assemble all ingredients and utensils
Utensils: measuring cups, spoons, knives,
scissors, large bowl, small plate, medium bowl,
2 small saucepans, slicer or processor, colander,
barbecue grill or roasting pan, basting brush
Peel, thinly slice cucumbers
Layer cucumbers with salt, set aside
    15 minute break
Light/turn on barbecue grill
Prepare chicken, rub with oil, salt, pepper
Start to cook chicken
Make barbecue sauce
Bring water to boil for potatoes

Slice potatoes, add to water, cook
Divide sauce, add oil to half for basting
Baste chicken
     Tidy up the kitchen
Make pimento dressing if not left from Friday
Mind the potatoes, drain, cool when done
    Pause whilst chicken cooks
Baste chicken
Finish the potato salad
Baste chicken
Drain, rinse, squeeze cukes
Finish cucumber salad
Remove chicken
Serve, remaining barbecue sauce on the side