Menu Plan for the week of June 14, 2013:  Thursday's Recipes
Chicken Caesar Pasta Salad
Sautéed Zucchini (Courgette) with Cherry Tomatoes
Cooking time:  30 minutes for menu          Cooking schedule: see below for instructions
     We cook the chicken on the gas grill, but indoors in a skillet is fine. If you like anchovies, but don't want to buy a tin, get the paste.  We use it, in small quantities, throughout the summer.
Chicken Caesar Pasta Salad
Total time: 30 minutes 
    I know the classic Caesar Salad is made with Romaine lettuce... And a dressed with a raw egg, olive oil and lots of garlic.  This dressing lightens it, makes it a bit healthier, but still keeps the flavor of the original Caesar.  Plus, it makes a great main course for summer!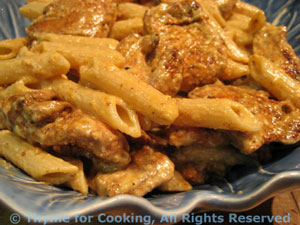 Ingredients:
2 chicken breasts, boneless, skinless
1 tbs chili powder
2 tbs Worcestershire sauce
1 1/4 cups (4.2oz, 125gr) pasta - fusilli, shells, penne
1 tbs good olive oil
Caesar dressing:
2 cloves garlic
1 tbs Dijon-style mustard
1 tbs lemon juice
1 tbs tarragon white wine vinegar
2 tsp Worcestershire Sauce
2 anchovy filets, mashed or 1 tsp anchovy paste (optional)
1/2 cup (4oz, 120gr) Greek or plain yogurt
2 tbs good olive oil
1 tbs snipped fresh chives
3 tbs Parmesan
 Instructions:
Cook pasta according to package instructions. 
When done, drain, put into a large serving bowl and toss with 1 tbs olive oil.
Mix chili powder, Worcestershire and garlic. 
Slice chicken breasts into bite size pieces or strips and toss with chili powder mixture. 
Cook on barbecue grill in a pan or sauté in nonstick skillet on stove.  Either way cooking time is 5 - 7 minutes over medium-high heat.
Caesar Dressing:
Mince garlic and put in small bowl. 
Add mustard, lemon, Worcestershire, vinegar and yogurt (and anchovies, if using) and mix well with wire whisk. 
Slowly drizzle in olive oil whisking constantly. 
Whisk in Parmesan and chives. 
To finish:
Add cooked chicken and 2/3 dressing to pasta and toss to mix.  (A tongs works great for this!)
After mixing taste and add rest of dressing if you like.  Serve.
Sautéed Zucchini (Courgette) with Cherry Tomatoes
Total time: 20 minutes 
      This is a lighter version of the traditional Mediterranean dish.  Finishing with a bit of lemon gives it a fresh flavor.
 Ingredients:
1 medium zucchini (courgette), about 8 " (20cm)
1/2 cup (3oz, 90gr) cherry tomatoes
1 tbs olive oil
2 tsp lemon juice
1 tbs fresh basil  
1 tbs fresh chives
 Instructions:
Cut ends off zucchini, cut in half the long way and then into 1/4 inch slices. 
Sauté in medium nonstick skillet over medium heat until soft and translucent, about 15 minutes. 
Cut tomatoes in half. 
Snip herbs. 
Add tomatoes, herbs to zucchini and stir to combine. 
Sprinkle with lemon juice, stir gently and serve.
Cooking schedule: 30 minutes
Assemble all food, utensils and serving dishes
Utensils: measuring cups, spoons, knives,
whisk, small bowl, pot for pasta, colander, medium
skillet, large nonstick skillet or barbecue grill and
grill pan
Put water on high heat for pasta
Turn on barbecue grill if using
Cut chicken into strips or pieces
Mix chili powder, Worcestershire for chicken
Add chicken, stir well to coat, set aside
Cut zucchini, cherry tomatoes
Mince garlic

Make dressing
Snip herbs
Grate Parmesan
Start to cook pasta
Sauté zucchini
Cook chicken
Remove chicken, set aside
Drain pasta, toss with oil
Add chicken, dressing to pasta, toss
Taste, adjust salad
Add tomatoes, herbs to zucchini, stir
Sprinkle zucchini with lemon, stir
Serve