Menu Plan for the week of July 5, 2013:  Monday's Recipes
Grilled Pork Chops with Peanut Marinade
Pasta with Peanut Sauce
Green Beans with Butter and Herbs
Cooking time: 30 minutes for menu          Cooking schedule: see below for instructions
     A bit of an Oriental theme for tonight's dinner.  We do rather love peanut butter...
Grilled Pork Chops with Peanut Marinade
Total time: 30 minutes
   Similar to a Satay, this slightly spicy marinade goes well with pork.  For maximum flavor, poke the pork with a fork after adding the marinade to allow it to penetrate the meat.  We had thin chops that cook quickly; try not to overcook, slightly pink is now preferred for pork.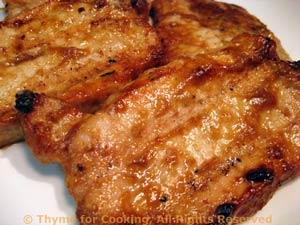 Ingredients:
2 - 4 pork chops, 12oz (360gr) total weight if boneless
Marinade
1 tbs creamy peanut butter
1 tbs soy sauce
1 tbs red wine vinegar
1/4 tsp garlic powder
1/4 tsp powdered ginger
1 tbs sesame or walnut oil
2 tbs olive oil
 Instructions:
Mix all ingredients for marinade and pour over chops. 
Let marinate for 15 - 20 minutes. 
Cook on barbecue for 5 - 8 minutes a side or until done. Slightly pink is preferred - take a peak (techniques). 

Or

fry in nonstick skillet over medium-high heat the same amount of time.  Serve.
Pasta with Peanut Sauce
Total time: 25 minutes
     Peanut butter, sherry, fresh herbs... It's a simple sauce, rich, creamy and full of flavor.  It is meant to be served just barely warm or at room temperature.  
 Ingredients:
 Instructions:
Cook pasta according to package instructions. 
Snip herbs.
In a small saucepan heat chicken stock, peanut butter, soy sauce and sherry, just until peanut butter melts, stirring well to combine.
When pasta is done, drain well and put into a bowl. 
Immediately pour sauce over and stir well to combine. 
Let rest 5 minutes. 
Add herbs, stir well and serve.

Note:

If using dried herbs add to sauce when heating.
Green Beans with Butter and Herbs
Total time: 20 minutes
   A simple summer dish!  Use any fresh herbs you have, but basil, summer savory and chives are especially good with beans.  Use one or any combination.
 Ingredients:
8oz (240gr) green beans
1/4 cup chicken stock
1 tbs butter
2 tbs fresh herbs
 Instructions:
Top and tail beans...  cut off the ends. 
Cut into 1 1/2 inch lengths (4cm). 
Put beans into small skillet, add stock, cover and simmer over medium heat until done, 7 - 10 minutes.  If beans dry out add a little water. 
When done drain and transfer to a serving bowl. 
Melt butter in the same skillet over low heat. 
Snip herbs using scissors and add to melted butter and sauté briefly. 
Add beans and toss/stir to coat.  Serve.
Note:  If you prefer your beans to be more on the crisp side:  Bring a medium saucepan half full of water to a boil over medium-high heat.  Add beans and blanch for 4 minutes.  Remove, drain and immediately plunge into cold water until cool.  Drain.  When adding to butter and herbs, stir-fry for 1 minute to warm.
Cooking schedule: 30 minutes
Assemble all food, utensils and serving dishes
Utensils: measuring cups, spoons, knives,
scissors, small bowl (used 2X), dish for marinating,
medium bowl, pot and colander for pasta, barbecue
grill, small skillet with lid, small saucepan
Turn on/light barbecue grill if using
Put water on high heat for pasta
Make marinade for pork, spoon over pork, set aside
Top and tail beans, cut
Make Peanut Sauce for pasta, gently heat

Snip all herbs
Start to cook pasta
Start to cook chops
   Pause while stuff cooks
Turn chops
Start to cook beans
When pasta it done, drain, toss with sauce
Remove chops
Drain beans, add butter, herbs, stir well
Add herbs to pasta, stir gently
Serve