Menu Plan for the week of August 16, 2013:  Tuesday's Recipes
Grilled Chicken Breasts / Lemon, Fresh Herbs
Pasta with Avocado and Greek Olives
Tomato Cucumber Salad
Cooking time:  30 minutes for menu      Cooking schedule: see below for instructions
       Half the avocado in the pasta - the other half tomorrow.  To store avocado: remove pit and lay, cut side down on a plate, refrigerate.  I used 2 different heirloom tomatoes for the salad.
Grilled Chicken Breasts with Lemon and  Fresh Herbs
Total time: 30 minutes
    You can use any combination of herbs you have: more of some and less of others, just try for 4 tbs total.  Cook the chicken a little slower, over indirect heat, to keep them moist and not burn the herbs... too much...
You could use skin-on chicken breasts or thighs and stuff the marinade under the skin.  Cooking time would be longer if they were also bone-in.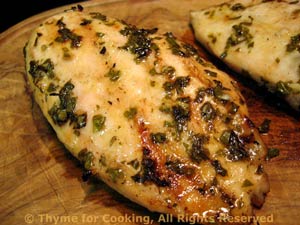 Ingredients:
2 chicken breasts, boneless, skinless
2 tbs olive oil
4 tbs lemon juice, fresh if possible
1 clove garlic, minced
1 tbs fresh snipped chives
1 tbs fresh snipped parsley
1 tbs fresh snipped basil
1 tbs fresh snipped tarragon
 Instructions:
In small bowl whisk together oil and lemon juice. 
Mince garlic, snip herbs and whisk into lemon and oil. 
Put chicken in shallow glass baking dish and spoon marinade over.  Let marinate 15 - 30 minutes.
Cook on barbecue grill over indirect heat 15 - 20 minutes or on baking sheet in oven (400F) for 25 - 30 minutes or until done. 
Baste with herbs and lemon after turning, then cover for 5 minutes. 
When done (knife poked in and juices run clear) remove from heat and serve.
Pasta with Avocado and Greek Olives
Total time: 25 minutes
      Olives, avocado and a bit of Greek yogurt make a quick, simple salad side dish.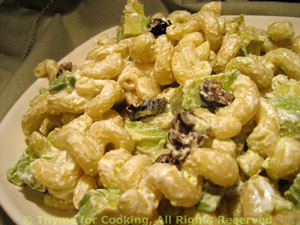 Ingredients:
1 cup (3.3oz, 95gr) dried pasta
1/2 ripe avocado
1/3 cup (3oz (90gr) Greek yogurt

1/2 cup black, dry-cured Greek olives

substitute any other olive
 Instructions:
Cook pasta according to package directions. 
Drain.  Do not rinse.
Cut avocado into small cubes. 
Pit olives, if needed, and cut in half. 
Combine yogurt and pasta; stir well to combine. 
Add avocado, olives, stir gently and serve.
Tomato Cucumber Salad
Total time: 10 minutes
   Pretty and flavorful salad, with the best of the season!
 Ingredients:
 Instructions:
Peel and slice cucumber, about 1/8" (1/4cm) thick. 
Slice tomatoes. 

Vinaigrette: 

Combine mustard and vinegar in a small bowl. 
Slowly whisk in olive oil.

To finish:

Arrange tomatoes, cucumber and basil nicely on large plate. Drizzle with vinaigrette and serve.
Cooking schedule: 30 minutes
Assemble all food, utensils and serving dishes
Utensils: measuring cups, spoons, knives,
small bowl (used 2X), whisk, pot and colander for
pasta, dish for marinating, barbecue grill, plate
Put water on high heat for pasta
Snip herbs
Make marinade for chicken, spoon over, set aside
Peel, slice cucumber
Slice tomatoes
Make Vinaigrette
Pit, slice olives

Start to cook pasta
Start to cook chicken
    Pause while everything cooks
Arrange tomatoes, cucumbers, basil on platter
Drizzle Vinaigrette, set aside
Turn chicken
Cube avocado
Drain pasta
Combine yogurt, pasta
Add avocado, olives
Remove chicken, slice
Serve all