Menu Plan for the week of August 16, 2013: Friday's Recipes
Baked Tomatoes Stuffed with Prosciutto and Basil
Grilled Salmon with Tarragon Tomato Sauce
Creamy Barley and Chard Gratin
Cooking time:  50 minutes for menu          Cooking schedule: see below for instructions
     Choose tomatoes that are a little on the firm side for baking.  Add the scooped out tomato from the Baked Tomato to the Tomato Tarragon Sauce.
Tomatoes Stuffed with Prosciutto and Basil
Total time: 30 minutes
  A little bit of good Prosciutto imparts a lot of flavor to this easy first course.  You could substitute crisp, crumbled, fried bacon or chopped regular ham.
 Ingredients:
 Instructions:
Slice the tops off of the tomatoes and scoop out the center, about an inch (2.5cm) deep. 
Chop the ham. 
Snip the herbs. 
Combine the ham, herbs and bread crumbs. 
Spoon the mixture into tomatoes, pressing it down to fit. 
Divide the cheese and place on top of each tomato.
Put onto a baking sheet and bake at 400F (200C) for 15 - 20 minutes, until tomatoes are hot and cheese starts to brown.
  Remove and serve, garnished with whole basil leaves.
Grilled or Smoked Salmon with Tomato/Tarragon Sauce
Total time: 25 minutes  
   We lightly smoked the salmon, directions are below...  If you prefer, it can simply be grilled or roasted in the oven. The salt is scraped off before serving.
 Ingredients:
2 salmon fillets, 12oz (360gr) total weight
2 tsp dill weed
1 tsp coarse salt
1 tsp olive oil
wood chips for smoking - apple is nice See Barbecue Grills for more info  

optional

1 small - medium ripe tomato, chopped  

about 1/2 cup

1 tbs fresh tarragon, snipped  

substitute 2 tsp dried

1 tbs fresh parsley, snipped  

 substitute 2 tsp dried

2 tbs mayonnaise
 Instructions:
Note: Salmon should flake easily but not be dry; remove from heat when just barely done.
Creamy Barley and Chard Gratin
Total time: 45 minutes  
      An easy gratin - do the prep work, pop it in the oven and let it finish while you relax.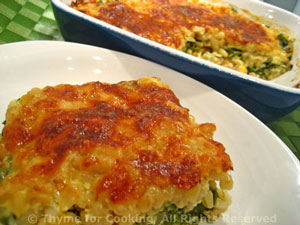 Ingredients:
1/2 cup (2.8oz, 80gr) quick-cooking barley
1 cup (8oz, 240ml) chicken stock
8oz (240gr) chard, stems and leaves
1 medium onion
1 tbs fresh parsley
1 tbs fresh basil
1/2 cup (2oz, 60gr) shredded cheese
2 tsp oil
2 eggs
1/4 cup (2oz, 60gr) Greek or plain yogurt
1/4 cup (2oz, 60ml) milk or chicken stock
 Instructions:
Cook barley in chicken stock until done,  usually about 15 minutes for quick-cooking.
Chop onion. 
Wash the chard and trim any bad bits. Stack the leaves together and fold over, the long way. Slice into thin strips, using both leaves and stems.
Snip herbs.
Heat oil in a large skillet. 
Add onion and chard stems to skillet and sauté until tender, about 7 minutes. 
Add the chard leaves and sauté until wilted.  Remove from heat.
Stir in herbs.
Whisk eggs, yogurt and milk together.
To finish:
Spread chard / onion mixture in the bottom of a baking dish just large enough to hold everything.
Add barley, spreading evenly over vegetables.
Sprinkle with cheese.
Pour egg mixture over the top and bake, uncovered, for 30 minutes, 400F (200C), until nicely browned and set. 

Remove and serve.
Cooking Schedule: 45 minutes
Assemble all food, utensils and serving dishes
Utensils: measuring cups, spoons, knives,
scissors, small bowl, medium bowl, whisk, small
saucepan with lid, baking dish, baking sheet,
barbecue grill with basket or mat
Soak wood chips if using
Turn oven on 400F (200C); arrange 2 shelves
Start to cook barley
Wash chard, chop
Chop onion
Start to cook onion, chard stems
Snip all herbs
Scoop out tomato
Chop Prosciutto / ham
Make stuffing for tomatoes, stuff, tomatoes, set aside
Add chard leaves to onion, wilt
Add herbs, remove, set aside

Bake tomatoes
Oil baking dish
Whisk eggs, yogurt, milk
Spread chard, onions in baking dish
Spread barley on chard
Sprinkle with cheese
Pour eggs over, bake
Oil salmon, add dill, salt, set aside
Chop tomato for sauce
Make Tomato Tarragon Sauce
Light/turn on barbecue grill
Remove tomatoes when done
Start to cook salmon
Serve tomatoes, garnished with basil... Relax
    Done?
Check salmon
Remove gratin
Remove salmon ... Serve all