Brown Rice Pilaf
Total time: 30 minutes
I use Uncle Ben's Brown Rice which looks like brown Basmati and cooks quickly, in about 15 minutes. If you can't find a quick cooking brown rice and don't want to wait for the traditional to cook in 40 minutes (or so) you can substitute white Basmati which also cooks in about 15 minutes. Look for the brown, though, better flavor and more nutrition. This recipe plans on making the Brown Rice Pilaf Salad with the leftover rice pilaf.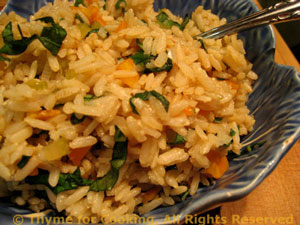 Ingredients:
3/4 cup (5oz, 150gr) quick-cooking brown rice
1 1/2 cups (12oz, 360ml) chicken stock
1/3 cup onion, finely chopped

about 1/2 onion

1/3 cup green bell pepper, finely chopped

about 1/3 pepper

1/3 cup carrot, finely chopped

about 1 medium

1 tbs fresh snipped chives

substitute 1 tbs dried

1 tbs fresh snipped oregano

substitute 1 tsp dried

1 1/2 tsp soy sauce
Instructions:
Finely chop all vegetables.
Put all ingredients, except herbs, into a saucepan and cook - according to package directions for rice.
When done, fluff with a fork, add herbs and serve.
Note: There should be about half leftover for Rice Pilaf Salad. If you don't want the leftovers, reduce:
rice to 1/2 cup

chicken stock to 1 cup

all vegetables to scant 1/4 cup
soy sauce to 1 tsp