Creamy Barley and Chard Gratin
Total time: 45 minutes
    An easy gratin - do the prep work, pop it in the oven and let it finish while you relax.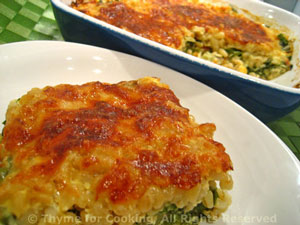 Ingredients:
1/2 cup (2.8oz, 80gr) quick-cooking barley
1 cup (8oz, 240ml) chicken stock
8oz (240gr) chard, stems and leaves
1 medium onion
1 tbs fresh parsley
1 tbs fresh basil
1/2 cup (2oz, 60gr) shredded cheese
2 tsp oil
2 eggs
1/4 cup (2oz, 60gr) Greek or plain yogurt
1/4 cup (2oz, 60ml) milk or chicken stock
 Instructions:
Cook barley in chicken stock until done,  usually about 15 minutes for quick-cooking.
Chop onion. 
Wash the chard and trim any bad bits. Stack the leaves together and fold over, the long way. Slice into thin strips, using both leaves and stems.
Snip herbs.
Heat oil in a large skillet. 
Add onion and chard stems to skillet and sauté until tender, about 7 minutes. 
Add the chard leaves and sauté until wilted.  Remove from heat.
Stir in herbs.
Whisk eggs, yogurt and milk together.
To finish:
Spread chard / onion mixture in the bottom of a baking dish just large enough to hold everything.
Add barley, spreading evenly over vegetables.
Sprinkle with cheese.
Pour egg mixture over the top and bake, uncovered, for 30 minutes, 400F (200C), until nicely browned and set. 

Remove and serve.