Artichokes with Creamy Yogurt Dressing
Stuffed Chicken Breasts
Pommes Anna
Snow Peas with Green Garlic
Pommes Anna
Total time: 75 minutes    60 minutes baking
    A mandolin makes quick work of slicing the potatoes but is not necessary.  Clarifying the butter is not difficult, just a bit fussy.  Try to make the first layer as neat as you can.  Remember this will be the lovely, golden brown top when you unmold the Pommes Anna.  This is enough for 2 meals or 4 persons.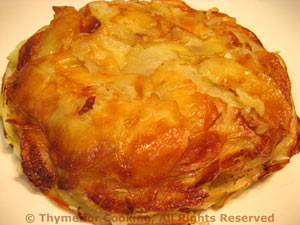 Ingredients:
 Instructions:
Clarify butter: Melt butter in a small pan over low heat just so that it is melted. 
You will notice the white milk solids in the butter.  We don't want these.  With a small spoon skim off as much of the floating milk solids as you can. 
Then carefully pour the clear (mostly) butter into a glass measuring cup, leaving behind the remaining solids. 
Using a basting brush and some of the clarified butter, generously butter the inside of a round, glass baking dish.  Mine is about 8" (20cm) in diameter and the potatoes will come up about 2/3's to the top. 
Slice the potatoes into paper thin slices, using a mandolin, box slicer, food processor, or a sharp knife. 
Line the bottom of the baking dish with a layer of potato, brush very lightly with butter.
Add a layer of potato, brush with butter. 
Repeat until you have used all of the potatoes. 
If you use salt & pepper put a little on the middle and top layers. 
Cover with a lid or foil and bake in 400F (200C) oven for 60 minutes.  
Remove, and let rest for 5 - 10 minutes. 
Invert on to a large plate - it should retain it's shape. 

Slice half of the Pommes Anna into wedges and serve

. 

Save the other half for another meal.