Barbecued Pork Chops
Total time: 30 minutes
  Perfectly simple: a quick marinade to add flavor and moisture followed by a quick cooking on the grill.  I used rather thin, boneless chops.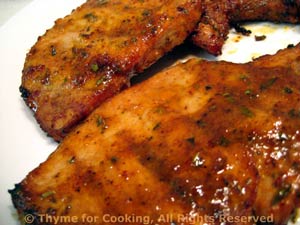 Ingredients:
2 - 4 pork chops - depending on size, 12oz (360gr) total if boneless
Marinade:
2 tbs red wine vinegar
1 tbs ketchup
2 tsp soy sauce
1 tsp dried marjoram
1/2 tsp garlic powder
3 tbs olive oil
 Instructions:
Mix all ingredients for marinade and pour over chops. 
Let marinate for 15 - 20 minutes. 
Cook on barbecue for 5 - 8 minutes per side or until done.  Should be slightly pink in the middle, or near the bone if bone-in, when done - take a peak (techniques). 

Or

fry in nonstick skillet over medium-high heat the same amount of time.  Serve.
Note:  If you cook it too long pork tends to be dry - unless you cook it really, really long - but that's winter cooking ... this is summer.