Polenta Stacks with Avocado Cream
Lamb and Vegetable Kebabs with Minted Yogurt
Summer Couscous
Lamb and Vegetable Kebabs with Yogurt Dipping Sauce
Total time: 45 minutes
   It does look nice to have the meat and vegetable on the same skewers - and you can do that if you partially pre-cook the vegetables.  I prefer to do it all on the grill, and, as the different foods have different cooking times, arranging them on the skewers accordingly.  Serve on a bed of Summer Couscous, Minted Sauce on the side.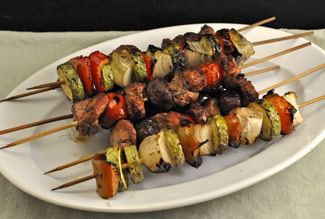 Ingredients:
lamb shoulder, 14oz  (420gr) (or pork or beef), cut into 1 1/2" (3.75cm) pieces
1 red bell pepper
1 red onion
1 medium zucchini (courgette)
8 - 12 mushrooms, large enough to be skewered
8 large cherry tomatoes
6 - 8 skewers
Marinade:
3 tbs olive oil
2 tbs red wine vinegar
1 tbs Worcestershire sauce
1 tbs sherry
1 1/2 tsp dried rosemary
1 1/2 tsp dried basil
1/2 tsp garlic powder
 Instructions:
Soak wooden skewers.
In large, deep bowl whisk together all ingredients for marinade. 
Cut meat and add to the marinade; let marinate for 20 - 30 minutes or up to 4 hours.
Clean pepper and cut into 1 1/2 " (3.75cm) squares. 
Peel and cut onion into 8 wedges.
Cut zucchini into thick slices, about an 3/4 inch (2cm). 
Clean mushrooms.
Add all vegetables to bowl with meat/marinade and stir to coat.
Cooking:
Thread meat, mushrooms and tomatoes on 2 - 3 skewers, alternating.
Thread peppers, onions and zucchini on 2 - 3 skewers, alternating.
Cook vegetable skewers on barbecue grill over direct heat for 10 - 15 minutes, turning once. 
When vegetables start to brown move to indirect heat and cook for another 5 - 10 minutes. 
When you move the vegetable skewers, start to cook meat skewers over direct heat.
Cook until meat is done to your liking.  We cooked ours for about 8 minutes, turning once.
Remove and serve on a bed of Summer Couscous. 
Could also be cooked under the broiler (grill) for 12 - 15 minutes, or until done
Yogurt Dipping Sauce
Time: 5 minutes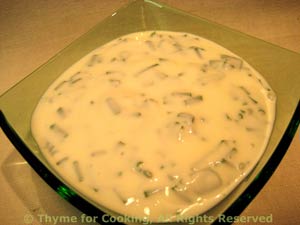 Ingredients:
 Instructions:
Combine all ingredients in a small bowl.  Mix well and refrigerate until ready to use.  Serve with kebabs.